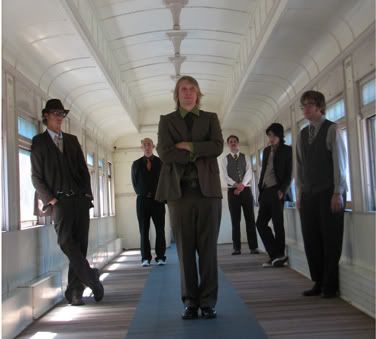 In the interest of full disclosure I should admit…I've wanted to visit the
Viper Room
since that gym period in 10
th
grade we spend discussing "the club in LA that Johnny Depp owns." Alas, Johnny has moved on to southern France (le sigh!) but a mere seven years after that formative conversation I find myself in the position to appreciate the Viper Room, and a free evening of music from my favorite local band,
Minor Canon
.
Note: I
t is in no way cool to leave for a club three and a half hours before doors. But seeing as how the average temperature in our apartment was 95 degrees, I'm prepared to take that hit
1
.
So. The lovely night of music. Minor Canon (which started out as a solo project for leadman Paul Larson) thrives on wistful lyrics punctuated by dreamy, piano based melodies. What a coincidence - so do I! When not making us swoon with recalled bittersweet memories, Larson manages to chastise his "narcissistic mind" and revel in how "I moved closer to the light today/found out I was stupid."
This just in:
Self-deprecation is sexy.
The biggest surprise of the night: Minor Canon can rock! On several songs, Larson moved between his guitar and a mini-drum set, igniting a "duel of the drummers." (The same move has also been used to equally enjoyable results by Ben Gibbard and Death Cab For Cutie.) While this is a move the band has been perfecting over several years of shows, newly added are the use of electric guitars. You mean it's possible to be bummed out and loud while retaining your trademark melodic structure? My inner emo child can be pacified while my feet dance to your jazzy horn flourishes
2
? Pour me another club soda
3
. I'll be here all night folks.
1. All contributors to this blog suffer from a rare affliction called "terminal punctuality." Symptoms include inevitably outing ourselves as the only ones left in LA who still take an 8:30 door time literally.

2. Well... head nodding in passive agreement. This is the Viper Room after all.

3. "Being a designated driver makes you better looking."
Note from m.a.b.: It should also be noted that The Prix and Satisfaction also played, and were quite fun to listen to. And that the Prix's bassist is very friendly, and that Satisfaction's bassist is very tall.

On a side note:
If you love Minor Canon as much as we do, vote for them as
local favorite to play the LA Weekly Detour Fest.
Mp3: "
Good Luck
" by Minor Canon
Mp3: "
A False Start
" by Minor Canon