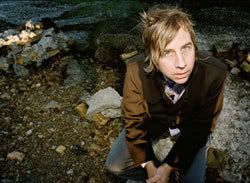 I can't say that I ever really expected to see
John Vanderslice
smirk. I expected the rocking, I expected the flailing and the stomping and the banging on the guitar. I expected the amazing backup band. I didn't expect the distortion pedal on the violin, although I probably should have. But I certainly didn't expect the discussion of porn and Riverdancing and mandatory dance parties when I entered the Troubadour last night to see Mr. Vanderslice. I was expecting a good show, and he and his band more than exceeded expectations. The set was made up primarily of tracks off the recently-released
Emerald City
and 2004's
Pixel Revolt,
with
Life and Death of an American Four-Tracker
represented by the oddly piano-free "Me and My 424" and the brief "Greyhound" performed by Vanderslice alone onstage while his bandmates retreated upstairs for a quick beer. The drummer shook the venue and its audience to their foundations, and John's smile lit the room more brightly than the house lights ever could (although the enthusiastic lighting guy was trying his hardest to compete). Although I think it's probably safe to say that hearing "Keep The Dream Alive" performed in the middle of the floor on a cracked guitar, a violin, a toy xylophone, and a floor tom, acoustic and un-amplified, with a hundred softly cooing voices singing along, was the musical highlight of my year thus far
1
.
And while
the blog tour
was quite stellar,
this
brings me a great deal of joy.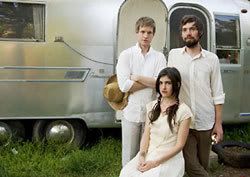 Oh yeah, there were opening bands, too, and they were also fairly epic.
The Bowerbirds
are a wonderful folky trio from North Carolina, consisting of a guitarist, an accordionist, and a violinist/bass pedal player, the latter two sharing duties on bass drum, and all three sharing vocals. Beautiful stuff in a vaguely M. Ward-meets-Beiruit-in-your-living-room way.
Bodies of Water
are a local band who took to the stage as a motley 9-piece ensemble exuding pure joy. While they all seem slightly insane, they are decidedly brilliant at what they do, and I couldn't stop smiling during their set. It's kind of like if I'm From Barcelona
2
were smaller and played the Fillmore in '66.
(Also, if you ever find yourself at the Troub and hungry, order a BLT. Best BLT ever, and the short order cook is friendly and adorable. I thank Harry Anderson of the Golden Republic for the recommendation.)
I'm not sure if it was Bodies of Water's brass section blowing directly into my right ear or the shock of spending an evening with John Vanderslice, but last night I fell asleep with my ears not only ringing, but populated by poorly-trained primates playing a Bach fugue on those crappy Radio Shack keyboards that people who aren't very good like to show off on. But trust me, that's a good thing.
1. It's not as amazing as the story he told of the previous night's show in Fresno, where they took the entire audience out into the street, where they were so manic that when they approached a pickup truck, the driver actually backed up.
2. For those unaware, I'm From Barcelona is kind of like the Polyphonic Spree, only Swedish and with fewer cultish overtones. And they haven't decided to go from twee to rock 'n' roll yet.
mp3: "
Me and My 424
" by John Vanderslice
mp3: "
Exodus Damage
" by John Vanderslice
mp3: "
In Our Talons
" by the Bowerbirds
mp3: "
We Are Co-Existors
" by Bodies of Water