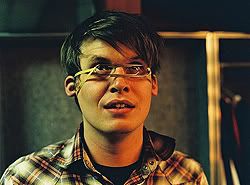 Little-known fact: every day that goes by without Chris Walla updating his
blog
causes the world to make a little bit less sense. Or at least, it does if you're me and at some point in the last two years that website managed to become the gravitational center of your musical universe. I'm writing this paragraph, basically, in the hope that my public expression of angst will result in an update tomorrow. Not because I think Chris Walla is reading this, but because fate loves to make me look foolish like that.
In the meantime, go download every single mp3 from
that same neglected website
, and join me in anticipation of the release of an actual album (January 15, 2008, if sources at the
Barsuk message boards
are to be trusted).
When not recording and eventually releasing solo material, Walla also plays guitar for
Death Cab for Cutie
, who
Pitchfork
has reported shall begin recording a new album this very month. These are exciting times! (Ignore, as usual, Pitchfork's attitude about the whole thing.)
The real reason I'm making this post, however, has little to do with Walla's solo album and even less to do with the prospect of a new Death Cab album; rather, I have focused my attention today on a few lonely pieces of music that are even less likely to find themselves legitimately released in the foreseeable future. Last spring, I stumbled across
the Vernacular
, a collaboration between Chris Walla and Sean Nelson of
Harvey Danger
(and including Nathan Good, Death Cab's original drummer). A year later, nothing has happened except that the number of songs on their MySpace page has risen from two to three. But I adore those three songs, and I managed today to acquire them in mp3 form, which means that they can now establish residence on my iPod rather than necessitate my visitation of that MySpace page every few weeks to get my fix (I'm lazy). I am sharing two of them with you, with the expectation that you will go friend that MySpace page and help initiate a campaign of harassment for an EP, at the very least.
mp3: "
Born Without a Heart
" by the Vernacular
mp3: "
Make Good Choices
" by the Vernacular