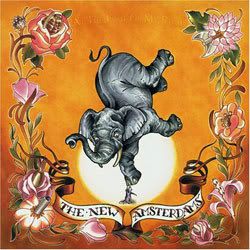 In 1999, Matt Pryor realized that he had written a whole bunch of really good songs that were a little too acoustic to record with the Get Up Kids, his emo-pop band (back before Fall Out Boy et al. turned all emo into pop), and his side-project
The New Amsterdams
was born. Since the Get Up Kids' breakup in 2005, the New Ams have been Pryor's main priority, and their sixth album,
At The Foot Of My Rival
was released recently on
Curb Appeal Records
. Unlike the last two albums, demo tracks from which were released on the now-defunct, then-Vagrant-sponsored website as the recording process...well, proceeded, this album has pretty much sprung up unexpectedly on the eagerly awaited fans. It was a pleasant surprise, though.
The band described this album as a return to "rock." And when compared to
Story Like a Scar
, their last, mildly disappointing album, I suppose that would be true, but only just. (Interestingly, the title track to
Story
ended up on the new album.) It's also the most country-tinged album we've had in quite some time from the Kansas City native.
At The Foot Of My Rival
is, however, sprinkled with the lo-fi folk tunes, jangly electric guitars, understated drumming, and ever-so-slightly raspy vocals that fans should expect to accompany lyrics full of discontentment, loss and, occasionally, California. The most "rocking" song in their catalog, however, remains
Story Like a Scar
's "Intellient Design", and the politics and religion Pryor hit listeners over the head with in that track are merely suggested in
Rival
.
When the Ams do stray into the rock genre, it is in one of two manners:
a) Modest Mouse's
Good News For People Who Love Bad News
, with wacky, clamoring percussion ("Long Lost Shot") and eerie whisper-screaming (closer "The Blood On The Floor").
b) Tom Petty's chugging chords and singing lead guitar and urging chorus ("A Beacon In Beige", "Fountain of Youth")
Luckily the Petty is hinted at, and only in spots, allowing the acoustic guitar to be king. Overall it's a good album with good songs, but I can't help but feel that the band peaked around
Worse for the Wear / Killed or Cured
, which probably makes me a terrible person, considering that
Killed or Cured
is basically the documentation of the breakdown Pryor had that helped lead to the end of the Get Up Kids. But everyone knows that great art comes from pain. Matt – stop being so happy!
Yup, it's official, I'm a terrible person. But it's for the benefit of indie folk.
I'm assuming that regardless of his apparent dislike of Silverlake scenesters, Pryor and friends will be performing in LA in this spring. The would-be hipsters will be there – oh, and Dustin, don't worry, it's not you I'm stalking. Which reminds me: Eric, I think I owe Gretchen a drink.
mp3: "
Beacon in Beige
"
mp3: "
All Ears (live)
" originally released on
Para Toda Vida