Subtitle
: Beirut for Beginners
Sub-Subtitle
: Band Geeks Gone Good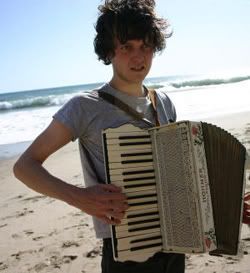 There are essentially two reasons I go to shows. One: A band I really really (really) love is playing, and if I don't go see them then it's quite possible the world will implode. Two: A band that I'm superficially familiar with and find vaguely interesting is playing, and I hope that by going to see them I will gain a greater appreciation of their brilliance. Often the only difference between liking and loving music is context, after all -- as loath as I sometimes am to admit it.
Beirut
, who released an excellent album called
The Flying Club Cup
last Tuesday, falls into category number two.
I was also intrigued by this show because I'd never seen an in-store performance before. I have determined, retrospectively, that the primary benefits of seeing a band this way are as follows:
1. It's free.
2. You're spared being surrounded by too many people by the giant racks of CDs that divide everyone neatly into two-row increments. I suppose this would be less advantageous if you were too many CD-racks back, but as the would-be hipsters were standing between the first CD-rack and the stage, we were quite pleased.
3. There are no opening bands.
4. The shows are earlier, which means that I can potentially be home and in bed at a more decent hour, because I am an old lady.
5. You can get your CD signed in a manner that is convenient (albeit in an assembly-line sort of way) rather than stalker-ish.
Plus, how can one pass up the opportunity to see all eight members of Beirut (looking rather like a scraggly but lovable junior high band) and their hundred-thousand instruments packed onto the world's tiniest stage? Present were trumpets, saxophone, french horn, other unidentified brass-type instruments, accordion, upright bass, violin, flute, clarinet, mandolins (plural!), ukulele, keyboard, and guitar. And Zach Condon, whose voice I don't think is actually connected to his body, but rather something amazing that he accidentally swallowed as a small child.
Because I am only a beginner Beirut fan, I cannot tell you exactly what they played. I can only tell you that it sounded phenomenal. From the first wail of the mournful-but-inspiring horn section to the last, it was pure cacophonic joy, washing over the audience and leaving pleasantly vacant expressions in its wake. It's impossible to remain at a record store in Los Angeles while listening to Beirut play at a record store in Los Angeles. If that doesn't make sense to you, then you've never seen Beirut play at a record store in Los Angeles.
And so, the single major disadvantage to seeing an in-store performance? They're too short, of course.
...My last breaths on this earth will be complaints of shows' brevity.
mp3: "
Nantes (Live)
" by Beirut
mp3: "
The Penalty
" by Beirut