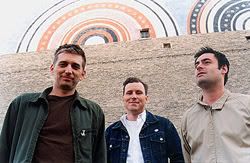 I don't think I will ever tire of standing at my favorite musicians' feet for an hour and listening to them play my favorite songs. There's a weird sort of pressure associated with it, though -- because I'm in the front row, I'm theoretically representative of the most dedicated in the crowd. But how to convey this? I try (and, okay, sometimes fail) not to sing, out of consideration for those around me. I definitely don't dance. Usually, I find myself with my elbows on the stage and my face on my hands, hoping that my awe isn't mistaken for boredom.
Sometimes it is boredom, however. The Weakerthans were preceded by two acts: Jeremy Fisher and the Last Town Chorus.
Jeremy Fisher
was pleasant enough in an ordinary sort of way, but he forced the distressing revelation upon me that I don't really like the harmonica. Also, it seemed like he could actually sing, and what's the fun in that?
The Last Town Chorus
was a three-piece, featuring a keyboard player (whose expression altered exactly once, briefly, and who I was never given any evidence actually played; I certainly never heard him), a guitar player, and a female vocalist who played lap steel. Her playing was pretty mesmerizing, but it also served the purpose of drowning out any other distinguishable characteristics of the songs.
Then,
the Weakerthans
. They were wonderful.
By the time they took the stage, the room was completely packed, and we couldn't have gotten away from the stage if we tried. Not that we wanted to. If we had, we would have missed so many glorious stage antics (making up for a mysterious lack of banter), including, amusingly, the Canadian-hillbilly-style bass playing of Greg Smith. Mr. John K. Samson, meanwhile, adopted an unassuming and charming little smile as he delivered some of the more genius lyrics by anyone ever, and many of them were shouted back at him by an enthusiastic audience.
The set list was satisfactory all the way around, including songs from all four of their albums -- though heavy on
Reconstruction Site
and the newly-released
Reunion Tour
, of course. Highlights abound -- I think I can die happy now that I've heard "Aside" played live -- but I was secretly also holding out for one or both of the songs about Virtute the Cat, and we got both of them. The latter in that saga is way more heartbreaking than it should be allowed to be. Or maybe I just need to come to terms with the fact that I'm a complete and utter sap.
The loud songs were loud and the lovely songs were lovely, gloriously so on both counts, and I realized about halfway through that there would be an awful lot of sadness when it was all over. And so there was. But that's the mark of any really great show.
In the spirit of which:
Dear Weakerthans,
Please do not wait four more years to make another new album and tour again. The withdrawal could kill me, and I'd hate for you to feel responsible.
Love,
The bored-looking girl in the front row in Los Angeles on Tuesday
mp3: "
Aside
" by the Weakerthans
mp3: "
Night Windows
" by the Weakerthans