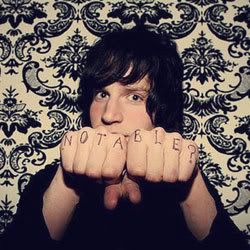 We would-be hipsters talk a lot about offering baked goods to indie rockers. We occasionally talk about offering alcohol to indie rockers. But the one person we've ever honestly considered sending a teddy bear to is Eric Howk.
Howk is probably best known as a guitarist for Seattle indie-pop punk sextet
the Lashes
, an amazing band powered by insanely catchy hooks, great riffs, confetti and, apparently, belt buckles. Earlier this year, Howk (occasionally known as Eric Lashes in a very Ramones sort of way) severed his spine, and has been wheelchair-bound since. He is, however, proof positive that you cannot stop the rock. Or, in the case of his side project,
Palmer, AK
, you cannot stop the indie.
Named for one of the small Alaskan towns Howk grew up in, Palmer, AK's music is comfortable, sweet, and occasionally as twee as this LA girl assumes a small northern community would be. The sound, however, is bigger – Howk plays everything on his first EP, a four-song, cassette-tape-recorded effort, which is to say that he plays nearly every instrument you would ever need, and a few I never knew one would need. (Someone who's not a Decemberist plays the melodica? Who knew.) There's a little bit of a 60s folk rock vibe to the chord changes that makes it feel familiar, but in an oddly fresh way. And, there's whistling. AND! A singing dinosaur.
No, serioiusly
.
Acoustic guitar, great melodies, chipperly lovelorn lyrics, all delivered by a cute boy. Really, what more could you possibly ask for?
*
* The correct answer, of course, is pie. Hey Eric, next time you're in town, the lemon meringue is on us – we'll see you at House of Pie.
mp3: "
Nate's Song
" by the Lashes
mp3: "
Revelry
" by Palmer, AK