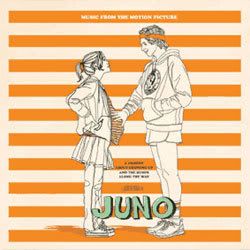 The songs from the film
Juno
definitely make you feel like you're involved in something special. I'm relatively certain that this album has saved me from certain death on my three-freeway-long commute home from work in the rain amongst the imbeciles and the terrified, as nothing bad can happen to you when you're listening to music this bouncy and this shiny and this good.
A collection of very twee, largely acoustic, and occasionally glammy songs, they make you feel warm and fuzzy, but in a "did she seriously just say that?" sort of way. I left the movie theatre after seeing
Juno
thinking, "I must have the soundtrack. Now." The film is scored primarily by Kimya Dawson, the girl half of the
Moldy Peaches
, who was suggested for the soundtrack by the movie's star, Ellen Page. The tracks on the album range from sweet, short instrumental pieces penned for the film, to the impossibly cute ditty about a fish who longs to be a cactus, to the decidedly political "fuck Bush and fuck this war" sentiment of "Loose Lips". Belle & Sebastian are well-represented, and the amazing covers by Sonic Youth and Cat Power are definite gems – they add a bit of darkness and gloom to counteract some of the bouncier acoustic numbers. (Most of the bouncy acoustic numbers are, however, just as dark and gloomy lyrically; this sort of bipolar music makes up the majority of my record collection.)
The highlight of the soundtrack is Michael Cera & Ellen Page's duet on the Moldy Peaches' "Anyone Else But You" – the film is basically an excuse to get to that last scene with the two of them on guitars, oozing cute and refusing to let anyone leave the theatre without falling in love with both of them.
mp3: "
Anyone Else But You
" cover of the Moldy Peaches, by Michael Cera and Ellen Page