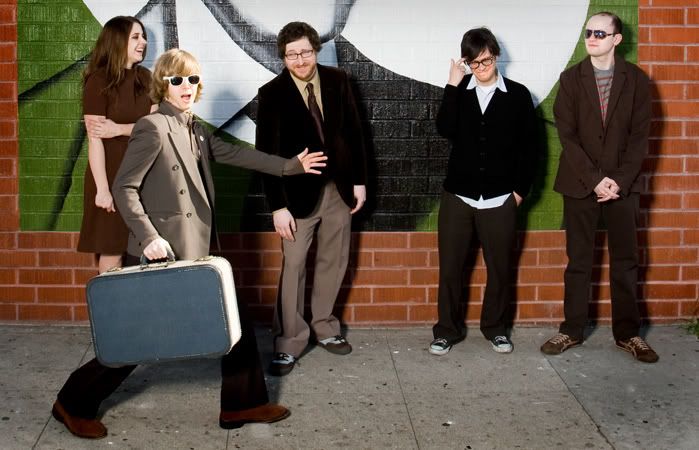 Dear Breakups,
No really, why is your pop powerless? I mean, I've been listening to your lovely new EP while jogging…am I doing it wrong? Help us sleep at night, let us in on the secrets of your musical classification system. We promise to do our best to spread the news of the "powerless pop", thus doing our part for the betterment of society at large. The world is been suffering a dangerous dearth information on this topic. We patiently await the inevitable manifesto.
Love, LMS & The Would-Be Hipsters.

Linguistic conundrums aside, Wednesday night's joint EP release party, featuring the perky "powerless pop" of
The Breakups
and the soring (pop) soundscapes of
I Make This Sound
-- if I may pull out my big fancy blogger descriptions -- totally rocked.
The first of the two headliners,
The Breakups
, clearly decided to kick off the Valentine's day festivities a few hours early. Band taking the heart decked stage clad in heart adorned formal wear, the whole performance was clearly set-up to be a love fest in the making -- aspiration which, judging by the enthusiastically cheering crowd, wasn't too much to hope for. Overall, the set was tight, self-assured, and a blast-- in short, an unsigned band likely to become every blogger's dream.
After the Breakups' shiny set,
I Make This Sound
played, an event which was even more fun than their undeniably infectious EP would suggest
1
. While their sweeping pop made me feel like I was in my own epic film, the sheer number of happy people on stage made me feel like I was at a quasi-retro dance party
2
. If the dark-tinged pop and frolicking percussion session wasn't enough, I Make This Sound invited several members from the Breakups on stage to sing with them for several songs
3
. Again with the overly eloquent descriptions: I found this band mash-up totally cool.
So now that the EPs have been pushed from the bands' respective nests into the world, what's next for The Breakups and I Make This Sound? Judging by the polished performances that not only met, but exceed all promises made by their recorded materials...anything they want.
1. That's right it's been upgraded to "infectious." After waking up for the past three days with"One, Two, Three!" happily lodged in my brain, I felt it needed to be said.
2. I'm usually the girl with her arms self-consciously crossed around her - but I promise you I'm all Elaine Benes on the inside.
3. There's peanut butter in my chocolate! There's chocolate in my peanut butter!

(photo credit: David Studarus)
(Make-up: Kelly Kuhn)
mp3: "
After The Fact
" by the Breakups
mp3: "
Macaroni Art, For You
" by I Make This Sound