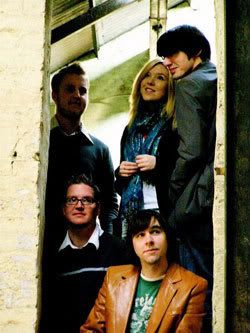 We Know, Plato!
(complete with exclamation point) have a soft, piano-driven sound that reminds me of someone in that 60s Tin Pan Alley sort of tradition, but they make it their own, just different enough that I can never quite put my finger on who it is specifically they sound like. This Virginia-based band has recently released their debut EP, appropriately titled
In Moonlit Sound
. It's a collection of six songs full of strings and minor chords and melancholy that would probably be the perfect soundtrack for driving around in the snow on a quiet New England night. There's Beach Boysian harmonies and tender lyrics sung by sweet-voiced boys. "Enemy Spies" is the only place on the EP where they seem to really work for their exclamation point, rockin' the joint with a Who-inspired rhythm section, which is the perfect way to win this would-be hipster's heart. They also get brownie points for managing to work the word "palindrome" into the lyrics of "Hollow Bird", although I'm not sure there's any actual palindromes involved....
mp3: "
Hollow Bird
" by We Know, Plato!