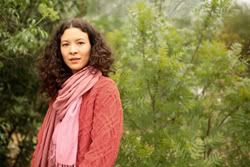 Occasionally, Los Angeles can surprise you.
Today on my jog, a bus pulled up beside me and opened its doors, the driver's eyes wide as if to say, "Oh you poor dear, get in and off the wicked LA streets." Being the car-shunning plebian of my neighborhood, this is not completely unexpected. This is not a surprise.
Mia Doi Todd
's very presence in the city, however, continually surprises me - happily so, I might add. A throwback to the days of "true folk" somewhere before Dylan earned his "Judas" title; Mia's newest album Gea surely couldn't be crafted in the same smog-covered city sphere I call home. Right?
I'm still skeptical. For one: surely her nature references aren't that of an LA girl. Love metaphors should be...I don't know, all-night pie places and dropping a coin in the hat of the homeless of Santa Monica, right? Instead we are treated to a marriage of love and nature: a thousand freshwater pearls, cliffs to walk on, and benevolent black widow spider. Love is lilac wine. By this standard the bottle of "Two-buck Chuck" collecting dust in my cupboard must be a dietary Dear John letter of some sort. Can I come live in your world for a while?
This isn't music for cynics, or commuters on the 405. (How I made the cut and became a fan I'll never know.) With song titles like "Night of a Thousand Kisses" and "Can I Borrow You" it would be easy to dismiss Gea as an overwrought Melanie rip-off, clearly not loud enough to drown out the gunshots of rush hour traffic. However, doing so would be to miss the point completely. Sung in the past tense, sweet memories are tinged with the pain of cracked rose-colored glasses - theatrics yes, but from a decidedly real place. On the stand-out, straight forward track "Kokoro," Mia unwittingly address this thematic dichotomy, singing (in regard to love of course), "Extreme happiness brings extraordinary pain."
Extraordinary pain? Maybe Mia
has
done the LA commute.
Honestly? If you don't already like folk, then chances are this album isn't for you. For the rest of us though, Gea is a love letter to the genre, a Vashti Bunyan-singing, Japanese-tinged Joni Mitchell for Gen X. Or, if you prefer, the love child of My Brightest Diamond's Shara Worden and M. Ward. No matter what your point of reference, it's beautiful, strangely comforting experience...much like watching the smog-enhanced sunset from atop the Hollywood Archlight parking structure
1
.
For an intense dose of folk, be sure to
check out
Mia opening for perennial Would-Be Hipster favorite, Mr. José González.
1. LA girl poetics. Worth a try, right?
(photo Mia Doi Todd:
Theo Jemison
)
mp3: "
Sleepless Nights
" by Mia Doi Todd
mp3: "
My Room Is White (Flying Lotus Remix)
" by Mia Doi Todd (from the album La Ninja:Amor and Other Dreams of Manzanita)