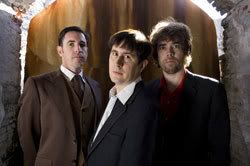 One can always tell that the evening is going to go well when, after watching a fantastic opening act of an anti-folk, twee-punk, Communist history teacher of a band rock the house, the
Mountain Goats
take the stage and a very dapperly dressed Peter Hughes nearly hits you in the head with his Fender
1
.
The Mountain Goats were much grander an act than I had been expecting – most acts are, really, and I think I should probably learn to raise my expectations. But never before have I seen strobe lights at the Troubadour, and you have not lived until you have seen John Darnielle, with his deceptively small frame, scholarly glasses, modest electric guitar, and larger-than-life voice, strobed and flailing and screaming about H.P. Lovecraft's xenophobia.
The set on Wednesday night, the second of a two-night stint at the Troub, relied heavily on the recently released
Heretic Pride
, with a smattering of older songs. Every Mountain Goats fan has their favorite song, and with a catalogue hundreds of songs deep and spanning well over fifteen years, no matter what that song is, it can probably be considered obscure. So when people called out songs and he rejected them ("Golden Boy!" "Not a chance."), one can only assume it's because he's not sure of the chords. As it was, he had to ask bassist Peter Hughes which fret to put the capo on for "No Children," and he had to start a couple of songs over after hitting a wrong chord, much to the rapt crowd's amusement. When someone requested "Love Cuts the String," he replied after the briefest pause with a cheery, "Why the hell not?" Probably because he thought he remembered the chords. It didn't matter, though because, ironically enough, he broke a string, and the second half of the song was done primarily a cappella. "I've been waiting for that to happen for years," he laughed afterwards, "because it's a song where you play the guitar really hard, and you expect the string to break, or cut, as it were."
The point of seeing the Mountain Goats live is not necessarily watching them perform. Don't get me wrong, they're a very tight, very talented, awe-inspiring band live. Darnielle performs with a passion that cannot be matched, face beaming like a five-year-old boy who's just discovered how to finger chords, then twisted in that joyful pain that usually only old jazzmen can pull off. We were thrilled to absolute pieces with the 90 minute set with two encores and the epic singalongs. (Are there any other bands out there that can make the sold-out Troubadour scream as absurd a phrase as
St. Joseph's baby aspirin / Bartles and Jaymes
as if it were an anthem?) But as amazing as the musicality and the performance are, one goes to see the Mountain Goats to hear Mr. Darnielle's stories. His speech pattern is equal parts Sesame Street Muppet and tweed-clad English professor, only far more demented – but in a good way. I've never before heard anyone discuss make-believe taxidermy or the boiling point of water with such fervor before. I wanted to buy him a slice of pie and ask him to explain to me the major plot points of
War and Peace
just to listen to him talk
2
.
Oh, and by the way, openers Jeffery Lewis and the Jitters? Awesome in the way that only a band who in one breath does indie-folk covers of Crass songs, and in the next shows hand-illustrated slideshows about the murder of a bus full of nuns can be. It doesn't matter who you are, you like them.
1. Because it's true, I really am that mousy girl leaning against the bassist's monitor.
2. You can take that as an invitation, if you'd like, Mr. Darnielle.
mp3: "
I've Got the Sex
" by the Mountain Goats, live at Pitzer College
mp3: "
Love Cuts the Strings
" by the Mountain Goats, from
Philyra
mp3: "
Time Machine
" by Jeffery Lewis, from
City and Eastern Songs