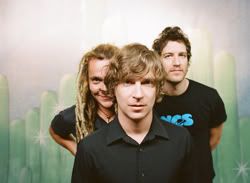 I forget sometimes that
Nada Surf
are from New York and not Seattle, where they've recorded their last three full-length albums for
Barsuk Records
.
1
The most recent of these,
Lucky
, was released on February 5, and though it's somewhat underwhelming compared to the excellence of
Let Go
(2003) and
The Weight Is a Gift
(2005), it's still a satisfying collection of smart pop songs and deserving of your attention.
One of the things that I was looking forward to most about seeing Nada Surf live was watching a
band
, three people crashing through their songs with glorious disregard for trivial details, and so it is that I'll get my only pseudo-critique out of the way: they had other people on stage with them, a keyboardist and the player of half a cello.
2
Mind you, neither of these additions were audible most of the time, but that's exactly my point. I'm usually fully in favor of bands who define themselves in varied, intricate instrumentation -- such as opener
Sea Wolf
-- but that wasn't the appeal of Nada Surf last night.
There were exceptions to this, notably the accordion-accompanied "Blonde on Blonde" during the encore, but when guitarist/vocalist Matthew Caws took the stage wearing a top hat
3
and the band launched into "Hi-Speed Soul," the tone was set. This was a rock show. Caws would later use this fact as justification to (presumably) a concerned parent in the audience who didn't want their son to join in the gleeful
oh, f*** it
sing-along to "Blankest Year". Mostly, though, however the themes were presented, they dealt less with partying and more with the poignancy of loneliness and longing. The epitome of this was "Inside of Love," the sort of song that your cold and cynical exterior wants you to scorn but which Caws' voice sells so well you basically have to be comatose to resist. Far from resisting, a whole room of hipsters actually agreed to dance in unison to it. Or at least sway. Which was close enough.
The other notable attribute of the night was the generosity of the set. It emphasized
Lucky
, of course, but not overly so, and they even played two songs from 1995's
High/Low
(yes, one of them was "
Popular
"). It's the first show I've ever been to where when the audience yelled out requests, instead of ignoring them or humorously dismissing them, the reply was "Oh yeah, we're playing that later". It's also the first show I've ever been to where a band I love stayed on stage almost as long as I wanted them to. To actually do so, let's face it, would not be possible.
1
If Seattle were a country, this would be more than enough to apply for dual citizenship.
2For real.
3'Cause really, what's more rock 'n' roll than a top hat?

(photo Nada Surf: Autumn De Wilde)
mp3: "
Blonde on Blonde
" by Nada Surf, from
Let Go
mp3: "
Do It Again
" by Nada Surf, from
The Weight Is a Gift
mp3: "
See These Bones
" by Nada Surf, from
Lucky