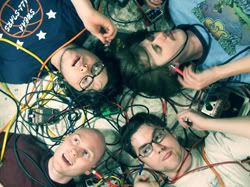 In every music fan's life, there are bands, and then there are bands who incite you against your better judgment to venture alone into the frightening depths of Hollywood on a Sunday night to see them open for two other bands that you have absolutely no interest in seeing. These are the bands you love.
Funnily enough, the only other time I went to a show fulfilling nearly all of these circumstances, it was to see
Someone Still Loves You Boris Yeltsin
, neighbors to Dynamos in at least two different senses: they're both from Missouri, and, um, alphabetically on my iPod. (Incidentally, SSLYBY have an excellent new album called
Pershing
coming out on Polyvinyl on April 8...review forthcoming.)
But I digress. Here is some information that might actually be useful to you:
So Many Dynamos
are a loud, dance-punk-ish, Dismemberment Plan / Les Savy Fav / Weezer-influenced, palindromic four-piece band from St. Louis who have released two full-length albums to date:
When I Explode
in 2004, and
Flashlights
in 2006. They began recording a third album in July 2007 and recently completed it, but the search for a label to release it remains ongoing. And so it is that the tour they're currently embarked upon could be classified as the worst kind of tease.
Half of their set at the Knitting Factory was comprised of new material: songs called "Glaciers" and "If You Didn't Want to Know," and another whose title I didn't catch. For lack of a more effective way of putting it, they sounded
awesome
. Everything else did, too, in a "Wow, how do they create that much noise and chaos and still manage to make it make sense?" kind of way. It probably has something to do with being really good musicians or something.
The only sadness in the evening resulted from a) the brevity of the set (self-righteous fist-shaking at the Knitting Factory for cutting it short), and b) the fact that next to no one was there to witness it
1
. Sometimes I get a little too absorbed in my own little musical universe and forget that not everyone sees things the way I do. So just to clarify: This band is important. Listen. Or you don't get any pie.
1. Note from m.a.b.: Dear Dynamos - I announced at the beginning of the year that if I don't see you this year, I will die. You then chose to come to Los Angeles while I was being dragged to Phoenix against my will. I wanted to be there, I really, really did. I still think that if I don't see you, I'll probably die. Please keep this in mind when planning future tours. I'd hate for you to feel responsible.

(photo So Many Dynamos: Leanna Kaiser and Adam Dupuis)
mp3: "
Search Party
" by So Many Dynamos