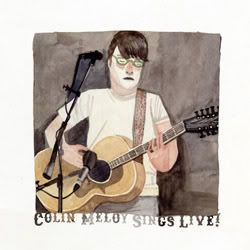 When the announcement was made that
Kill Rock Stars
would be releasing an album of live recordings from
Colin Meloy
's 2006 solo tour, mine was not a reaction of great enthusiasm. None of the usual undignified giddiness that usually accompanies the anticipation of an album by one of my favorite artists was immediately tangible. The thing was, recordings from that tour had already been proliferated throughout the internet on a fairly wide scale, and one couldn't help but feel that somewhere, someone was just trying to capitalize on the imminence of
the new tour
to make a few extra dollars.
But then I heard it. And, what can I say, it's just really well done. Though the seventeen tracks are collected from various stops on the tour, they're assembled to create the feeling of a continuous performance, including some between-song banter. I admit, I have a weakness for the banter. One of the reasons why the Decemberists work so well is their ability to balance the at-times over-the-top darkness in their songs with a sense of humor, and Colin gives himself even more reign to do this when he plays by himself. The best example is the previously-unreleased "Dracula's Daughter," which Colin disclaims to the audience is the worst song he's ever written. With lines like
think you've got it bad? / try having Dracula for a dad
, it's hard to argue with him. But, of course, that makes it hilarious.
Mr. Meloy turns on a dime, also delivering breathtaking stripped-down versions of an assortment of songs from the first three Decemberists records. Not just anyone could carry such grand compositions with just voice and an acoustic guitar, but not just anyone has Colin's voice. Love it or hate it, you can't deny its presence. "The Gymnast, High Above the Ground" is a particular highlight in this respect. It is magical
1
.
In the end, I only have two complaints. One is the inclusion of another previously-unreleased song, "Wonder," immediately following "Dracula's Daughter" -- forcing the listener to contemplate whether the juxtaposition of another questionable piece of songwriting (this one contains the line
a-tumblin' in Dublin
, at which I can't decide at which to laugh or to cringe) was an intentional bit of irony (I hope so...), or just embarrassing. In either case, it kills the energy a little bit. The other is that the packaging contains no warning label. I got caught up in some of the magic in the car yesterday and forgot that I was actually in traffic on the 405. Which could have meant death. Much as I adore Colin, that's not really the way I want to go.
1
Yeah, I said it. And I'm not ashamed.
mp3: "
We Both Go Down Together
" by Colin Meloy