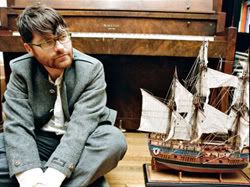 The Would-be Hipsters are slightly divided on
Colin Meloy
– one of us likes everything about him except his music, while the other two lamented her foolishness as we stood at Mr. Meloy's feet at the Henry Fonda Monday night.
The prospect of a solo show is always slightly dubious. If someone is used to the band dynamic, will he be able to fill the stage alone? Will an acoustic guitar do justice to the band's songs (especially if said band is
the Decemberists
, who tour as a five-piece with just about every instrument you can name, and several you probably can't)? But with Colin Meloy, I don't think anyone had any doubts.
Touring to support
Colin Meloy Sings Live!
, he played songs spanning his entire career, a couple of new (and suitably amazing and dark) songs, as well as a smattering of covers, many from his tour EPs. This tour gave us
Colin Meloy Sings Sam Cooke
with opener
Laura Gibson
providing backing vocals. Gibson, a lovely folk singer with an acoustic guitar, gingham dress, and a new appreciation for Wikipedia and official state dances, joined Meloy for a sweet version of "Cupid."
The set opened with "Shiny," because you may as well start off with a song about gypsy girls taking off their clothes, as it sets the tone for the rest of the night rather well. It was a very educational evening as we learned, among other things, that Meloy has to tune his guitar while standing on his toes, even thought it ruins his arches; that you don't need arches anyway; that Shirley Collins is a goer; that Missoula, Montana is the bicycle theft capital of the world; that if you take the worst song Meloy has ever written ("Dracula's Daughter") and put it through "the James Mercer machine" you can get "O, Valencia!"; and that while Decemberists fans seem to have the best singing voices around, our vocabularies aren't that great, as proven when, during an absolutely mind-blowing performance of "The Mariner's Revenge Song", Meloy encouraged the crowd to quail, only to find that the crowd as a whole didn't quite know what "to quail" means. We were properly chastised and got a splendid demonstration on how to properly "oough." (This was followed by one of the most epic sing-alongs
1
of one of the most demented choruses in the history of popular music, wherein several hundred indie kids sang in the whispering falsetto voice of a sailor's dead mother demanding he bury someone alive. Yay!)
I have to say, however, that the best thing about Meloy touring solo is that it gives him the opportunity to stop songs in the middle. Sometimes to explain things, sometimes to wonder why people are yelling things at him, sometimes for wine, sometimes to pause and be hilariously adorable, but mostly because he forgot the words. There's nothing quite like a theatre full of people in Hollywood singing forgotten lines of "Los Angeles I'm Yours" back to the singer. Even if you don't know the words, Colin, Los Angeles is definitely yours.
1. It should be noted that the "sing-alongs" of the melodica part of "Los Angeles I'm Yours", the electric guitar solo of "The Perfect Crime #2", and the extra-credit whistle solo of "Shankill Butchers" are definitely in the running for most epic sing-along, but are probably disqualified as there are no actual words involved.
mp3: "
Everything I Try to Do, Nothing Seems to Turn Out Right
" by Colin Meloy, Live on NPR
mp3: "
We Both Go Down Together
" by the Decemberists, Live on KEXP