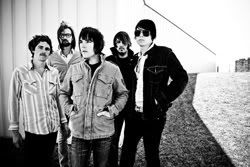 The first band that I ever saw at my beloved troubadour was
the Golden Republic
, who were opening for Sondre Lerche and acting as his backing band. I was young and naïve way back in 2004, and they rocked the joint so hard that I was convinced the tiny, ancient building was going to collapse around me, and I didn't mind at all.
Shortly after playing the Troub, the Golden Republic released a stellar self-titled debut, did a small tour to support it, and unceremoniously broke up. It hurt my soul a little bit. But! Keyboardist/guitarist Kenn Jankowski picked himself up, gathered some of his Kansas City musician friends, and
the Republic Tigers
1
were born.
The Republic Tigers
' debut album,
Keep Color
, is full of soaring double-tracked vocals, girly harmonies, subtle electronic accents, tinkling piano arpeggios, chugging acoustic guitars, and an amazing sense of air and space. There are occasional glimpses at the quasi-funk that was the driving force behind the Golden Republic ("Fight Song") and pleasantly absurd moments that could almost be considered twee (the ridiculously deadpan "Air Guitar"). "Buildings & Mountains," the first single, is a sweet, layered gem of a pop song that's optimistically melancholy enough to be played over a video montage in the last five minutes of
Grey's Anatomy
. Seriously. The melodies are always interesting, never going where you'd expect them (even if the songs do tend to stay on the soft side, never quite rocking out as much as I may have hoped), and the lyrics are much the same; the Interpol-esque "Golden Sand" is at first glance a song about dancing, but reveals itself to be politically charged - I think that's what the philanthropic mimes are about...? It's an album about making sure that no opportunities are ever missed, about getting the most out of life, and about, um, navigationally challenged boys with a boat?
1. Jankowski hails from Republic, Missouri, which may have something to do with the number of "republic" references that follow him around. It doesn't change the fact that discussing his musical career will always be confusing.

(Photo Republic Tigers:
Michael Forester
)
mp3: "
Great Communication
" by the Golden Republic from
The People EP
mp3: "
Air Guitar
" by the Republic Tigers from
Keep Color