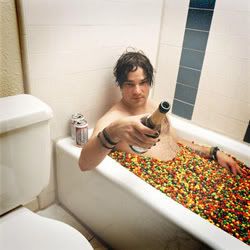 Reggie & the Full Effect
. We begin with a primer. Reggie is James Dewees, who started out as a classically trained pianist in Missouri, and somehow ended up as the drummer for metal band Coalesce, keyboardist for emo bands (of varying levels of emoness) the Get Up Kids, New Found Glory, and My Chemical Romance, and somewhere in there, became a favorite performer of at least two of the Would-be Hipsters in the form of Reggie & the Full Effect.
Up through 2005's
Songs Not To Get Married To
, RATFE was Dewees in the guise of three of his alter egos who straddle the line between satire and sincerity:
Fluxuation
, a Euro-pop/synth/electronica/dance outfit who, during 2006's tour, was represented by Dewees and his touring bassist dressed up as mimes miming to one part of R. Kelly's epic "Trapped in the Closet";
Reggie & the Full Effect
, a fairly standard if exceptionally melodic keyboard-based screamo act; and
Common Denominator
, a "Finnish Dark Metal" band fronted by Klaus, who is of course played by Dewees with an occasionally Germanish accent, wearing tiny leather shorts and covered in blood while screaming about helping verbs and invading dwarves who fail at basketball. Sometimes there's a fellow named Paco, who is Reggie in a bad wig and a worse mustache. He may or not be dead, and he's a killer breakdancer. Yeah.
I feel I should point out that I don't care for Euro-pop, screamo, or any metal heavier than Led Zeppelin. But I have been anxiously awaiting an album from Reggie since I saw him at the bar in Spaceland at the White Whale gig in 2006 and we found out he was in town recording
1
. But then there was the rehab, and the new wife, and the record being rejected by Vagrant for not being Reggie enough. And I got nervous.
And yes,
Last Stop: Crappy Town
, out June 17, is a bit of a departure. It's less funny, it's less schizophrenic, and it's a lot louder. There are no dwarves, there's no line dancing or sampling of anyone's parents, and there's no drunk people rambling into portable cassette recorders. It was produced by Sean Beavan, who's partly responsible for sharing Slayer and Marilyn Manson with the world, and the bassist is one of the creepy masked dudes from Slipknot. It is, apparently, a concept album about the New York transit system, and all of the tracks are named after subway lines and streets. ("R", for example, is track 10, and sounds like it could have been an outtake from My Chemical Romance's last album. But in a good way
2
. "Smith & 9th", track 2, seems to borrow a lot from the Get Up Kids' "Is There a Way Out". Which is also good.)
But as scary as all that sounds to someone like me, whose most-played songs on iTunes are the Decemberists and Death Cab for Cutie,
Last Stop
is a really good album. It's sort of like all three of Reggie's alter egos have had a baby – it's loud and screamy stuff backed by awesome synthesizers and a bit of pop sensibility, with occasional doses of hand claps and silliness to lighten the mood when the heavy bass and screaming about death starts to get you down, like in the opener "G," where Dewees confesses that his voice is kinda shot because
I smoke a lot and used to do a lot of...hugs!
The album does end with a surprisingly haunting piece about religion, fear, synthesized string sections, and the metaphoric dichotomy of angels and demons, which makes the listener (or me, at least) realize that maybe it's okay for hilarious, awesome musicians to mature a little bit, and not write songs about F.O.O.D. and Happy Chickens anymore, as long as the music they
do
make continues to be this good. Just please, James, promise us that you've not retired the leather shorts.
1. The fact that he was hanging out with fellow ex-Get Up Kid Rob Pope also thrilled me, but alas, Last Stop seems to be the first Reggie album without the gloriously talented Pope brothers filling out the rhythm section.
2. That noise you've just heard? That was the sound of m.a.b.'s hipster cred leaping off the roof of the Troubadour.
mp3: "
What the Hell is Contempt
" by Reggie & the Full Effect, from
Songs Not to Get Married To
mp3: "
Congratulations Smack and Katy
" by Reggie & the Full Effect, from
Under the Tray