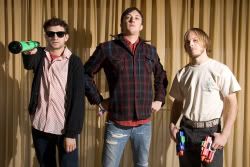 Of all the bands that I consistently try to get other people to listen to, there are few that I have evangelized more persistently over the last two years than
Someone Still Loves You Boris Yeltsin
1
. Last Tuesday night, they were kind enough to come to Los Angeles and validate most of the reasons for that evangelism. I would like to begin by formally extending my thanks.
In defining the set list, it might be easier to list what they
didn't
play. Most of
Broom
and
Pershing
(both of which, it goes without saying, you should own) were represented, along with an unidentified new song and "Half-Awake (Deb)" from last year's
Not Worth Fighting
single.
The thing that struck me most about this show was, for such a young band, what a solid grasp SSLYBY already have on what makes a good live performance. Songs that lilt along in their recorded form were sharpened in all the right places,
2
and generally delivered with an enthusiasm that oozed into the audience.
The thing that stuck me second most about this show is that opener
Port O'Brien
were foolish enough to arm the crowd with pots and pans, but miraculously, no one was injured. At least seriously. That I'm aware of.
All in all, the night would have approached perfection if only House of Pies hadn't been closed. But don't worry about us. There's still post-Beirut pie next Friday to look forward to...
1
Except maybe So Many Dynamos, who posted a new song called "New Bones" on their
MySpace
page today. You should care.
2
Or else augmented by some really rockin' cowbell.
(photo SSLYBY:
Aaron Scott
)
mp3: "
Accident (Live)
" by SSLYBY
mp3: "
What'll We Do (Live)
" by SSLYBY