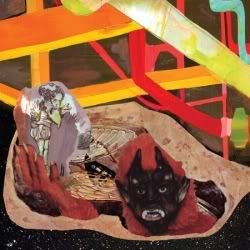 Albums like
Wolf Parade
's 2005 debut
Apologies to the Queen Mary
don't happen every day. I know this, because there aren't very many albums I own on which I have a five-way tie for my favorite song, or that Pitchfork gave a 9.2. Who knew that either of us even knew how to count that high? Such an album would be difficult enough to follow even if it weren't for the fact that co-frontmen Dan Boeckner and Spencer Krug also spent the interim three years dabbling in high-quality "side" projects (Boeckner with Handsome Furs, Krug most prominently with Sunset Rubdown).
So anticipation levels were high, and luckily,
At Mount Zoomer
(out tomorrow on
Sub Pop
) is far from being a catastrophic disappointment -- though it is a bit of a departure. Whereas the brilliance of
Apologies
lay for me in its compact density (three-and-a-half minute pop songs with lighthearted lines like
god doesn't always have the best goddamn plans, does he?
),
Zoomer
meanders and sprawls. The production is correspondingly less crisp and more fuzzy, in an effectively distorted sort of way.
Some things do remain constant. The lyrics lean heavily toward the abstract, leaving plenty of room for interpretation on most of the songs. Reoccurring themes include a preoccupation with places, beginning with the album's very first line (
in my head there's a city at night
...) and exemplified in the album's title, the name of the studio where it was recorded. A dissatisfaction with urbanization pervades. There are also several reflexive references to music in "California Dreamer," "Bang Your Drum," "Fine Young Cannibals," and my favorite, in "The Grey Estates" (which also voices some of that aforementioned dissatisfaction):
Strike up the band as the ship goes down / and if it's loud enough, they will erase the sound / of one hundred thousand sad inventions...
Heavy at times, maybe, but as indecipherable as both Krug and Boeckner's voices are capable of being, you don't have to pay attention if you don't want to.
Then there's "Kissing the Beehive," the eleven-minute closer, which basically takes everything that's good about the first eight songs and wraps it into one epic mass of over-the-top prog rock duet gloriousness, replete with captains and holy grails and a refrain of
fire in the hole!
which finds Krug doing what I most love to listen to him doing...singing nonsense. What more could you possibly ask for? In fact, it's really the only reason you need to go out and buy this album tomorrow. Trust me.
mp3: "
California Dreamer
" by Wolf Parade, from
At Mount Zoomer
mp3: "
Modern World
" by Wolf Parade, from
Apologies to the Queen Mary