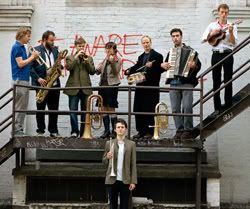 While standing in line outside the Wiltern in Korea Town Friday night, waiting to see
Beirut
, I was expecting a lot of beautiful noise with lots of lovely instruments and a gorgeous voice. What I was not expecting was the wonderful almost-controlled chaos on stage, with eight people milling around, trading instruments and laughing as if they were giving a show in their living room. A really, really big living room.
But first there were openers. The
Devon Williams Band
, who reminded me of Jeffery Lewis & the Jitters in an acousticy-punk sort of way, were pleasant and fantastic at bantering (and had a girly bassist, which is always a good thing). Then there were
the Brunettes
, with a new lineup since we
last saw them
, were just as adorable and amazing as last time – luckily they still do the Y.M.C.A.-inspired dance moves to "Brunettes Against Bubblegum Youth", as well as the "name game" to introduce everyone on stage (like the wonderful Eddie Eddie bo-beddie, banana fanna fo-feddie, fi-fi-fo-feddie, Eddie) and even a dance contest, with an EP as a prize for a dancing fool in the pit. With a clarinet, a trumpet and a trombone to fill out their sound, they were an oddly appropriate open for horn-driven Beirut.
I'll admit it, I like Beirut, I have their albums, but I'd never really paid them that much attention after the "Dude, have you heard 'Elephant Gun'? It's amazing!" phase wore off. Going into their show, I basically just knew that they make great Parisian gypsy music. But after seeing them live, I've gained a whole new appreciation for the musicality involved in making this music: on stage there were more horns than I could ever dream of naming, a clarinet, two basses (!), a violin, a piano accordion, two mandolins, a keyboard, a classical guitar, a drum kit, and at least three ukuleles. And it seemed everybody could play
everything
on the stage. There are layers of instruments in these songs that I'd never even noticed – when the bassist started playing a bass line straight from "House of the Rising Sun" while surrounded by ukuleles and violins and French horns, I nearly fell over. Or, I would have, if I hadn't been leaning against the stage, my chin in my hands, staring dreamily up at the glorious band of modern-day gypsies.
And then, of course, we have Zach Condon. It's slightly absurd to imagine that big, deep voice coming from the baby-faced Mr. Condon, until you see it live. Standing on the edge of the stage in the middle of the long line of his fellow music-makers, casually holding his horn on his left shoulder and loosely conducting the musical madness with his right hand with the hint of a slightly smug smile, suddenly everything makes sense. Not just the glorious music, or his incredibly resonant voice, but just about everything. Including the fact that I really need a ukulele.
(photo Beirut:
Danelle Manthey)
mp3: "
Nantes (live)
" by Beirut
mp3: "
Scenic World (live)
" by Beirut