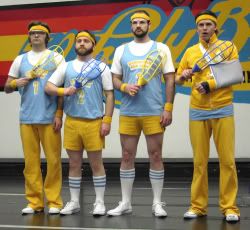 There's an old concert-going saying: It doesn't matter if you're in a 7,000-seat venue, as long as everyone else is behind you. Truer words were never spoken. On Monday night LMS and I braved the terrifying depths of downtown Los Angeles (where it is possible to pay as much for parking as you paid for your ticket) to see
Death Cab for Cutie
. I'd never been to the Nokia Theatre before, and gazing outward from the pit, the ambience reminded me vaguely of the Space Mountain ride at Disneyland. Only Aerosmith wasn't playing.
Instead,
Rogue Wave
opened, and were very good. I like it when opening bands are good. They played an energetic eight-song set spanning all three of their full length albums, ending with a completely epic performance of "Harmonium," the opener of last year's
Asleep At Heaven's Gate
. I was actually a little sad to see them leave the stage, which says something, considering how much I'd been anticipating the band that was to follow them. (A lot.)
Displaying a flair for the dramatic that I've never been able to resist, Death Cab launched into their set with "Bixby Canyon Bridge" and segued almost seamlessly into "The New Year". From there, it was a bouncy ride through their six-album discography, with emphasis on
Narrow Stairs
but also including back-to-back performances of "Company Calls" and "Company Calls Epilogue" from
We Have the Facts and We're Voting Yes
and, obligatorily, the anti-L.A. anthem "Why You'd Want to Live Here". I also feel the need to point out that they played "Long Division," but not "Your New Twin Sized Bed".
1
If I have any grievances, it's that the band hardly paused between songs to catch their breath, let alone amuse us with stupid banter. Stupid banter is one of the primary reasons that I go to shows (and it's not like
Death Cab doesn't have a sense of humor
). And maybe this is inevitable by the time you've seen a band three or four times, but nothing in the set seemed very novel or exciting...until the encore. All my petty complaints were forgotten during the encore. They played "Wait". For the uninitiated and/or non-completists and/or people who are saner than me, that's the
Secret Stars
cover on
You Can Play These Songs With Chords
, which they also played earlier in the day on KCRW's
Morning Becomes Eclectic
. It made my night.
1I have this theory about the new album, which is that there are people who like "Long Divison," and there are people who like "Your New Twin Sized Bed," and they do not overlap. At all. I'm a "Long Division" person; LMS is a "Twin Sized Bed" person. But we're still friends.
Note from LMS: True. But I think I might have had a conversion experience.

mp3: "
Marching Bands of Manhattan (Live)
" by Death Cab for Cutie
mp3: "
Title and Registration (Original)
" by Death Cab for Cutie
mp3: "
Like I Needed
" by Rogue Wave