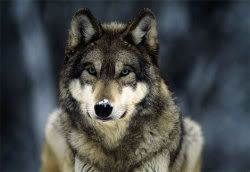 Written and reposted with kind permission of guest hipster
RJW
:
I write for the alt-weekly paper in St. Louis, and I was recently assigned a small blurb on the band Wolf Eyes. Wolf Eyes is a noise band from Ann Arbor, Michigan whose musical output resembles what I imagine a timber wolf attack would sound like. I found that not all wolf bands are as sonically literal as Wolf Eyes. For example, Wolf Parade doesn't necessarily sound like a parade of wolves. They sound like an indie pop band from Montreal, because that is what they are. Spazz-rock band Aids Wolf is also from Montreal, so we can assume that at some point somebody in Quebec didn't wear a wolf condom. Perhaps the most comprehensively named band in the Montreal wolf-rock genre is electro-rock group "We Are Wolves." Quebec apparently can't escape the wolf; the J Geils Band released a "Live In Montreal 1968" album with Peter Wolf on vocals. Peter Wolf hails from Worcester, Massachusettes, but Peter and The Wolf is a band from Austin, Texas. Russian composer Sergei Prokofiev composed a piece called "Peter and The Wolf" in 1936, and novelty artist "Weird Al" Yankovich released an album parodying the composition in 1988. Peter Paul and Mary never covered the piece, but they played a venue called the Wolf Trap in August of 2007.
There are five metal bands simply called Wolf, none of which hail from the United States. One of the five Wolf metal bands is a speed metal band from Japan, also home of surf rock group Guitar Wolf. Two of the five Wolf metal bands are considered to be NWOBHM, which apparently means "New Wave Of British Heavy Metal". One of these British Wolf metal bands used to be called "Black Axe", which is awesome. Wolves In The Throne Room is not British (they are from Olympia, Washington, home of K Records artist Wolf Colonel), but they are metal. Also not British: Polish black metal band Werewolf. Radiohead is not metal, but they are British, and they released a song called "A Wolf At The Door" in 2003. Also British and not metal: singer/songwriter Patrick Wolf. Patrick Wolf lives in London, which apparently has a history of problems with American werewolves.
Wolfmother is an ironic rock revivalist band from Australia. If Wolfmother was better, they might sound like Greensboro, North Carolina stoner rock band Tiger Bear Wolf. If you use Bear Vs. Shark as an intermediary animal band, Tiger Bear Wolf is only 2 degrees away from their Athens, GA Hello Sir Records labelmates We Versus The Shark, an indie-band-that-thinks-it's-a-metal-band who recently released a song entitled "Keep It Wolf". The song is a reference to their bassist's extreme facial hair, which, if groomed properly, would be similar to that of select members of TV On The Radio, whose most popular song is "Wolf Like Me." Hip hop artist Kayne West is an admitted fan of TV On The Radio and in his song "Good Morning (intro)" West makes a references to the Delorean time machine from "Back To The Future", starring Michael J Fox. Fox also appeared in the film "Teen Wolf". In addition to rapping, Kayne West is a famed hip hop producer (much like San Jose's Peanut Butter Wolf), who got his break by making beats for Jay-Z. Jay-Z is noted as popularizing the gesture of brushing one's shoulder off. Barack Obama once made this gesture in reference to not being threatened by Hillary Clinton, which was a point of discussion on an episode of CNN's "The Situation Room" hosted by Wolf Blitzer.
Brooklyn pop band White Rabbits are named after a cuddly animal that wolves generally prey on, but over half of the group used to be in The Texas Chainsaw Mass Choir, a sassy punk band whose calling card was the song "There's No I in Werewolves". The chorus of this song contained the phrase "You're one of us now, a wolf in sheep's clothing." This may or may not have been inspired by "A Wolf In Wolf's Clothing" by NOFX, but it most likely was not.
Sea Wolf is an indie pop band from Los Angeles that gets extra wolf points for the track "You're A Wolf". Los Angeles is also home to a band called The Wolf, whose schtick is covering their guitars in raw meat and eating them. This also gives them wolf points, since wolves don't cook.
(photo gray wolf:
Joel Sartore
)
mp3: "
Wolf Like Me
" by
TV on the Radio
mp3: "
You're a Wolf
" by
Sea Wolf