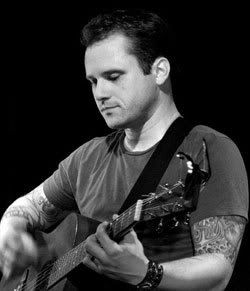 Matt Pryor
has graciously given us fourteen albums worth of decidedly good music since the formation of the Get Up Kids in 1995 (six LPs and two EPs with
the Get Up Kids
, six LPs with the
New Amsterdams
, and one LP with the Ams' side project the
Terrible Twos
, which is music for indie rockers' kids). With such an extensive catalog and such prolific song writing, it's surprising that Pryor is releasing his first solo album,
Confidence Man
, July 29th.
Pryor's songwriting could be graphed as a study in sine waves
1
with its Midwestern emo-rock peaks moving into acoustic indie crooning valleys, then back up to the rock, the cycle growing more predictable over the past ten years, and after the New Ams'
At the Foot of My Rival
, billed as a return to rock, the Would-be Hipsters were looking forward to quiet solo guitar and mildly sardonic lyrics of Matt's new album.
Confidence Man
doesn't disappoint.
The Would-be Hipsters are terrible people. Readers should know this by now. We've always said that while technically we want musicians to be happy, happy people don't necessarily make good music. And, as it turns out, Mr. Pryor agrees: "I love my wife, I love my kids, everything's great, but that doesn't make for a very good or interesting record. You start to sound like you're gloating." As such, Pryor doesn't sing about how well his life is going and how much he loves his family. No, he writes songs about his friend's problems, offering a bit of advice and hope at the end of three minutes of "Dude? You're kinda dumb right now." Much like "Dear Lover," appearing in its third incarnation (as B-sides for both
Killed or Cured
and
Story Like a Scar
) which, depending on which source one listens to, is either about James Dewees' divorce a few years ago, or a much older song from the mid-nineties. Either way, it's brilliant in that its finger-pointing and excuse-making still manage to sound so sweet and sincere that it feels like a love song, not the "I cheated on you because you nagged me too much, go way already" accusation that it actually is.
The new album captures bits of all three of Pryor's other projects, even the whimsical organ-and-handclaps sound of the Terrible Twos (in opener "A Totally New Year" which starts out with tattooing failures onto arms – interesting given Matt's epic and beautiful sleeve of tattoos). There's songs about stealing cars, losing friendships, snobby girls named Jennifer, and the light side of extra-marital trysts. Most of the songs are just Matt in his garage with his acoustic guitar and his clear voice, sometimes with a melodica or banjo
2
track, occasionally providing a bit of harmony for himself. While the instrumentation might be smaller and more intimate than we usually see from Pryor, he's still exploring themes of light, the stupid mistakes we all make and their consequences, and, oddly enough, the movement of the planet. When Pryor sings,
I'll be there when the world stops turning
, a girl like me could start hoping for cataclysmic shifts in the earth's axis – luckily for everyone, his solo tour starts in August, regardless of whether or not the world is turning.
1. Hey look, my Trig teacher was right, I did use that crap in my grownup life. Sorry, Mr. Rigsby.
2. The five-stringed banjo is the third most exciting instrument to the Would-be Hipsters, right after the hurdy-gurdy and
orange recorders
. Because we are, in fact, nerds.

mp3: "
Dear Lover
" by the New Amsterdams,
Killed or Cured
B-side
mp3: "
Never Treat Others
" by the New Amsterdams, Matt Pryor solo live
mp3: "
Holy Roman (acoustic demo)
" by the Get Up Kids