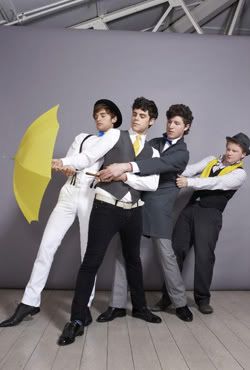 I, like many internet-dwelling indie-music kids, stumbled upon Noah and the Whale's video for "
5 Years Time
" ages ago and promptly fell in love with its Wes Anderson-inspired style and Brunettes-inspired dance moves and its ukulele-playing cute British boys. And then, like many United States-dwelling fans, checked every record store I went into for months, hoping to find the album and instead ended up cursing the cruelties of the world when I was forced to leave without Noah or any whale of any kind
1
. Luckily for everyone,
Peaceful, The World Lays Me Down
hits stores July 29
2
.
Noah and the Whale
are, as far as I can tell, the musical love child of I'm From Barcelona and the Shout Out Louds, only less Swedish and slightly more bent, in that "you've totally convinced me with your lyrics that yes, it would indeed be a good idea to abandon infants in the snow, because hey, the food chain's gotta start somewhere and besides, I can't argue with random handclaps and plucked violin strings like that" sort of way. Have I mentioned my love for chipper music with slightly morbid lyrics? Add to that a list of influences like Bob Dylan, Neil Young, Brian Wilson, Daniel Johnston, Neutral Milk Hotel and Jeffrey Lewis, along with a bassist named Urby and the aforementioned ukulele, and there's no way this album could go wrong.
Not all of the songs are as bouncy as "5 Years Time" - in fact, several of the songs, like "Death by Numbers," allow the instrumentation to reflect the themes of death and rebirth and broken hearts, but the glockenspiel and guitar and interestingly cymbal-free drums often (but not always) counteract the melancholy of the violin and Charlie Fink's charmingly rough voice. What results is one of the few albums in my collection that's just as good to listen to while walking to the grocery store on a beautiful sunny afternoon while admiring the ocean breeze and the strange abundance of beetles on the sidewalk as it is to listen to on a sweltering Saturday night stuck in traffic on the 10 freeway as you try to get someplace you don't even really want to be. It's sweet and tender, but with enough wit, morbidity and self-deprecation to help get you through Downtown LA. Hey you, dude in the 'Vette who cut through three lanes of traffic to get on the 101?
If you give a little love / you can get a little love of your own / don't break his heart
. Or any of my vital organs. Thanks.
1. Which reminds me – Hey, White Whale, what's up with that album you keep promising us?
2. Actually, we've been corrected - the album actually drops Sept. 16th, so you'll have to go a bit longer still. Cruel, but true.

(Photo Noah and the Whale:
myspace
)
mp3: "
Five Years Time (live)
" by Noah and the Whale