First, a note: please excuse my tardiness. I've neglected my blogging duties of late for no reasons other than general laziness and the love-hate relationship my laptop and I share. And Disneyland. Sorry.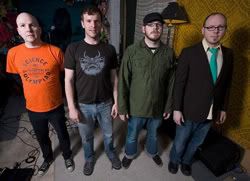 I've discovered a lot of bands when they opened for a band that I loved. Last Saturday at the Knitting Factory, however, I discovered a headlining band that a band I love opened for. Well that's not entirely true, as I knew about
the Smoking Popes
going in. What I knew is that they were a decent post-punk-type band from Chicago with a great name who I managed to discover through my favorite poster artist,
Jay Ryan
and his amazing
poster
. What I didn't know is how absolutely awesome they actually are. Granted they occasionally dip into a heavily 90s-pop sound seeing as how they're mostly a 90s band, but seriously, how can you not just adore a band of bald men who can, in one set, cover "Pure Imagination", do an epic feedback-frenzied freakout of a song about finding a new haircut, and end by bringing the entire crowd to tears with a heartbreaking sing-along of "I Know You Love Me" dedicated to friend and former producer Jerry Finn, who had recently suffered a brain hemorrhage, and who passed away Thursday. You know that a band is good when you know absolutely none of the songs and you still have a huge grin plastered on your face the whole night and you kinda wanna dance, even though you cannot dance. At all.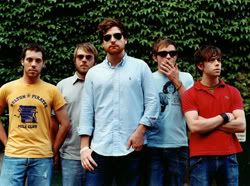 But, of course, the reason the Would-be Hipsters were really there was
Koufax
. I grew up on a hearty diet of ragtime piano and politics, so Kansas City's Koufax is like going home again
1
. 2005's
Hard Times are in Fashion
is driven by syncopated keyboards (swoon) and lead bass (double-swoon), and even though the touring lineup has changed completely since the album's recording, the new guys do a stellar job of filling in the rather impressive shoes of Jared Rosenberg and Rob Pope, respectively
2
. Of course we can't forget frontman Robert Suchan's enthusiastic guitar and distinctive, captivating voice. Saturday's set relied heavily on
Hard Times
(the only album I can think of full of elaborate tales written almost entirely in the third-person plural), but also included a healthy handful of tracks from one of their previous records, the stellar
Social Life
, and their upcoming album
Strugglers
, which, judging from the tracks they played, will not be a disappointment. It is worth noting, by the way, that their set was an
opening
set, and yet they managed to do 12 songs, bounce, flail, scream, amuse us with slightly bizarre stage banter, and prove that gosh darn it, redheads can be just as funky as anyone else. If a 12-song opener can be that awe-inspiring, the Would-be Hipsters are dying to see what the boys can do if they headline an LA show when
Strugglers
comes out.
1. Only not. My parents were right-wing Conservative agnostics in Southern California. It's hard to match those politics. Anywhere. But man could my dad syncopate a piano.
2. Sorry I don't know your names, New Guys, but rest assured you – and your bandmates – are made of win and are wholly deserving of pie. I'm also sorry that I couldn't find a photo with you guys in it; what's up with that?

(photos Koufax, Smoking Popes: last.fm)

mp3: "
Any Moment Now
" by Koufax from
Strugglers
mp3: "
Let's Hear It For Love
" by the Smoking Popes from
Get Fired