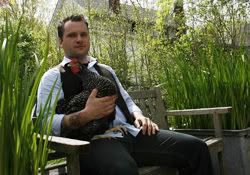 Between the Get Up Kids and the New Amsterdams, I've seen
Matt Pryor
more than I've seen any other musician, and yet every time I see him, it seems I forget how very, very good he really is.
Pryor has just finished a double-headlining tour with Chris Conley of
Saves the Day
, and is currently touring with
Kevin Devine
. The Would-be Hipsters were lucky enough to catch Pryor at the Troubadour on the 16th. Both he and Conley did full-length, all-acoustic solo sets, and both were stellar. Although Conley's was stellarly strange. I am the Would-be Hipster's official Emo Ambassador
1
, and I can attest that the actual music was not bad. LMS is our VP in charge of Lyrical Appreciation, and she was cataloguing the most hilariously emo-core lyrics ever written. (
You and are like when fire and the ocean floor collide
– um, what?) ako is in charge of our Men Who Can't Necessarily Sing But Are Amazingly Awesome Anyway Admiration Society, and Conley's pubescent voice was enough to cause her physical pain. We, however, were clearly in the minority, as I have never seen anyone have as much power over a room full of 17-year-old kids as Chris Conley. We were the only three in the room not emphatically singing along, and some dude yelled out "You're my Bob Dylan!" Conley apparently means a lot to kids these days, and he's singing about broken hearts and being socially outcast, so it could be worse. More power to him. I just would've rather seen Kevin Devine.
But then, of course, there was Matt Pryor. Performing songs from all aspects of his musical career – tracks off his recently released
solo album
, New Amsterdams songs, and even a healthy smattering of the more acoustic-friendly Get Up Kids songs – the only thing that disappointed us was his lack of absurd covers; a couple years ago he ended New Ams shows with a surprisingly awesome version of "Doctor My Eyes," and he's been known to cover the likes of Justin Timberlake and Outkast. Although really, who am I to complain when we did get most of our favorites from Pryor's personal catalog. His reception amongst the emo-kid audience was a bit more lukewarm than I'd expected, with some people actually leaving before his set. I suppose his scratchy voice, straightforward metaphors and occasionally twangy, Midwestern guitar playing is just a bit too much for the kids in LA these days. And while no one compared Pryor to 60s folk icons, the crowd did shout out requests. He insisted, "if I'm gonna play Get Up Kids songs, I'm not gonna butcher them to play them on the acoustic guitar." The whole crowd paused for a moment to mentally scan the Get Up Kids' catalogue, and then, almost as one, yelled out, "Overdue!" It was an oddly beautiful moment.
I'll be honest. There's a reason that this review is two weeks late. I haven't really been able to find the words to describe the show. It's not that it was such a stellar show that words cannot describe it. (If LMS can find words for Radiohead and ako can find words for the Weakerthans, anything is possible
2
.) Maybe it was the weirdness of being surrounded by kids who seemed to half care. Maybe it was the fact that I've seen Pryor so many times. Maybe it's the fact that the show was just really good and the guitar playing was really that wonderful and the setlist was really that perfectly random. Rest assured, though, that the show was decidedly awesome, and should you ever get the chance to see Matt Pryor, jump at it.
1. I earned this title by possessing everything every Get Up Kid has ever released, two Motion City Soundtrack albums, several Kill Creek albums, a general love of post-punk, and a secret love affair with Fall Out Boy and Pete Wentz's outright stupidity. Again proving that we will never be full-fledged hipsters.
2. Now might be a good time for a round of Which Would-be Hipster Is Not A Writer By Training or Trade. I'll give you a hint: she really likes musicians from Kansas and her initials are m.a.b.

(photo Matt Pryor: myspace)
Mp3: "
Hover Near Fame
" by the New Amsterdams, live at Austin City Limits 2005
Mp3: "
Overdue (acoustic)
" by the Get Up Kids