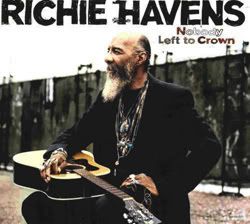 As much as I adore the weird, loud, bass-driven, angsty indie rock that's been filling up my iTunes for the past ten years or so, a part of my heart will always belong to 60s folk-rock. Bands like Buffalo Springfield, the Beach Boys, and Crosby Stills & Nash were my favorites in high school. My junior year I saved up to see CSN – my first concert ever – where I learned that most of my idols, though awe-inspiring in the sixties, were starting to get kind of sad and mostly deaf and vaguely disappointing in their old age.
And then I saw
Richie Havens
.
Havens opened at Woodstock, him and his acoustic guitar and his flailing, manic strumming and his amazingly rich voice. And when I saw him on the Santa Monica pier in 2004, his strumming was just as manic, his voice just as rich, and his stage banter among the best I've ever encountered. Even though his beard is white and we're fighting a different war, his 60s optimism is still in tact, and he's still convinced that if we all just try a little harder and love each other just a little bit more, maybe we can change the world for the better. I was born a cynic, but after listening to
Nobody Left to Crown
, even I'm convinced.
Nobody Left to Crown
, which was released last month, is full of protest songs in the classic 60s tradition of acoustic guitars and some quiet percussion and bouncy bass accompanying a soulful, slightly world-weary voice lamenting the lack of compassion and humanity and the overabundance of crooked politicians and human stupidity. Havens manages to modernize his sound just enough to assure us that he's still growing, he's still writing relevant songs, and he's still someone we should be paying attention too. Even after 25 albums
1
, he manages to avoid the common pitfall among musicians from his era who are still recording: trying to sound
too
modern, over-produced and like someone else altogether
2
. In fact, his voice is virtually indistinguishable from the albums he recorded over forty years ago, and it still warms my tiny little soul.
Havens is probably best known for his covers of some of the best-written songs of the 60s and 70s, and we all know how I feel about covers – I hold that his version of Dylan's "Just Like a Woman" is the most beautiful thing ever committed to tape.
Nobody Left to Crown
contains several covers, two of particular note: Jackson Browne's "Lives in the Balance" with guitar flourishes that manage to sound Spanish and Indian at the same time, and what I think may be one of my favorite covers ever: the Who's "Won't Get Fooled Again". You know the song, from that crime show where the redheaded guy in sunglasses says something
way over-the-top
, and then
Roger Daltry screams
and they show palm trees? Yeah, that one. Only with a cello. Seriously.
1. Dude!
2. Dear Misters Crosby, Stills and Nash – Please take notes from Mr. Havens. Forever yours, m.a.b.
mp3: "
Fates
" from
Nobody Left to Crown
mp3: "
Handsome Johnny
" as performed at Woodstock