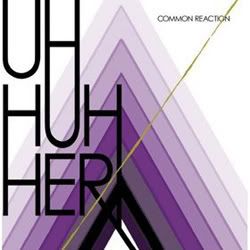 There's something inherently delightful and indulgent about a well-made electronic pop album. When the cellophane is first discarded and the little sticker on the side of the case is finally removed two hours later, the resultant sensation is similar to the one felt by children when they sneak a candy bar before supper. (I still do sometimes, but as an adult, I've found that it's far less exciting. Unless the candy bar is covered in rubies and you're sneaking it away from Topiltzin Ce Acatl Quetzalcoatl.)
The idea of this subconscious thrill leads me into my next admission: I have a shameless adoration of 90s electronica. Why now, of all times, would I make such a declaration? It's simple. This album shares the absolute best qualities of that age (the lyrical demands, the burrowing boogie-bug that creeps into your blood and releases the chemical that tells you "
dance or die
"), brings it into the future, makes sweet modern-rock love to it, and it all makes me
very, very happy.
Uh Huh Her
's debut full-length album
Common Reaction
(August 2008, Nettwerk) clings to both playful mischief and passive desperation, delivering dreams and pleas by painting a picture of city streets and empty playground swings and faceless girls and boys with no clue, all awash in the blur created by the perfect symphonic balance of synthesizer and two amazing female vocalists. The first track alone ("Not a Love Song") deserves an obscene length of time on repeat - and not simply because it lasts exactly as long as the drive from work to the post office. With insistent club beats laying a firm foundation for the marriage of most
excellent
guitar lines and the sweetly brutal synth that every electric ivory wants to be when they grow up. I will not deny the amount of attention withheld from other albums by this one. My last.fm profile speaks for itself (or it would if I didn't have such, er, dominating interests).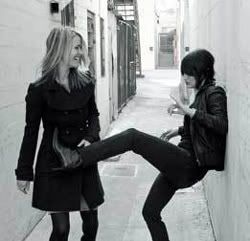 While being a brand new band (they formed in early 2007), neither woman has any lack of experience or proficiency with their craft. A multi-instrumentalist to the nth degree, Camila Grey has probably lent her talents to more groups than I have countable digits, and Leisha Hailey (of Showtime's
The L Word
) is known for her work in the 90s group The Murmurs (among others). It seems the hands of fate did one better for them both; when together, Uh Huh Her is an unreckonable force of pop, rock, and glamour.
The entirety of
Common Reaction
, while not 100% up-tempo, is imminently danceable and almost criminally easy to digest (I say this, of course, in the most lauding way possible). It's also, by default, confessional and relatable to anyone who's thought about anyone or anything with any sort of depth or passion, because with thought comes the frustration stemming from the knowledge that thought isn't action - and action is a lot more difficult. But man, they certainly know how to plead for it.
mp3: "
Not a Love Song
" by Uh Huh Her
mp3: "
Common Reaction
" by Uh Huh Her