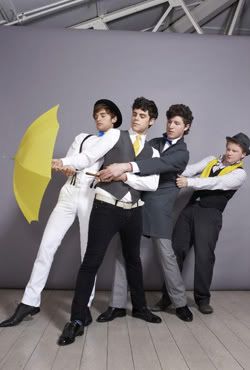 By now, everyone has surely seen
Noah and the Whale
's
"Five Years Time" video
, and been slain by its Wes Anderson-themed adorability. (And if you haven't, go ahead and watch. We'll be here when you get back.) That video is the primary reason that the Would-be Hipsters headed to Spaceland last Monday for their free show: cute English boys + ukulele + awesome shoes + synchronized dance moves = Would-be Hipster bait. And granted, we didn't get the synchronized dance moves, but we did get awesome shoes and a ukulele
1
and very cute English boys. So really, who am I to complain?
With the help of a mini brass section and opener / label-mate
Lindi Ortego
(who was part Martha Wainwright, part Colin Meloy, and a smidgen of Joanna Newsom), the boys made it through all of the upbeat songs on their album, along with two mind-bendingly good covers: Daniel Johnston's "Devil Town", and the Smiths' "Girlfriend in a Coma". So those two songs on top of the band's usual repertoire of bouncy tunes about turning into fertilizer and children being eaten by wolves, sung by four guys who look like extras in a Dexy's Midnight Runners' music video, and geeky indie-rock girls were swooning left and right. The band even manages to be endearing in the face of adversity, say, for example, when feedback takes over the guitar (borrowed from the opener because Chaz's guitar broke a string earlier in the set) in the middle of the
oh well it comforts me / oh well it comforts me
chorus of "Rocks and Daggers" and the drummer and bassist refuse to stop playing.
Noah and the Whale finished their first tour of the States at the Spaceland show, but fear not, they're touring at the end of the year, and there's still plenty of awkward awesomeness to go around, I'm sure.
1. Noah and the Whale are the primary reason I broke down and bought myself a ukulele. Her name is Madeline. She thanks the band for inspiring me. My upstairs neighbors? Not so much.
(Photo Noah and the Whale:
myspace
)
mp3: "Death by Numbers" by Noah and the Whale