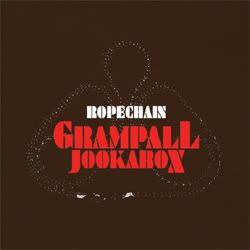 Back in 1967, way before Disney had its musical identity crisis (
Tarzan
, anyone?
Phil Collins
, yeah?), they released an animated feature which showcased a myriad of swingin' jungle creatures and the groovy vocal talents of Phil Harris and Louis Prima. Yes, I'm talking about
The Jungle Book.
Yes, there is logic behind this introduction.
It's 2008 now. And while Disney still struggles to find itself among obvious issues of misplaced production and an increasing lack of talent, Baloo and company seem to have discovered the benefits of late-night moonshine-fueled antics and have since lent the mental image of their escapades to the Indiana-based hardcore folk project
Grampall Jookabox
. Sound like a stretch? Listen to "Ghost," the third track on their sophomore album and debut LP
Ropechain
. Maybe it's the fact that I watched way too many cartoons as a kid, but I can imagine Kipling's Ikki the porcupine in a ridiculous animated form as he stands on an old crate with his crooked spines, dubiously-marked bottle in his hand, warning the others of a tribal-masked apparition he'd seen the night before. Then, taking up their like crutches and a rack of rusted bells, the jungle folk start up a haunting response with "Old Earth, Wash My Beat," bouncing
non sequiturs
off freshly-laid railroad tracks in the moonlight.
Disturbing (yet somehow welcome) corruption of childhood memories aside,
Ropechain
proves to be one of the most fun albums I've heard this year. When a song isn't saturated with a collection of delightfully dark, jaunty, and perverse rhythms
1
, it's carried by the soulful, finely crafted harmony of David Adamson's spectral vocals. Regardless of where you start when you listen to this album, it's guaranteed to work its voodoo on your eardrums and keep you spellbound until the end.
"The Girl Ain't Preggers," one of
Ropechain
's unapologetic highlights (and a carry-over track from Jookabox's
Rill Bruh EP
, available for free download on the
Asthmatic Kitty website
), boasts a raw, almost raunchy beat that can easily be classified as hypnotic; meanwhile, its lyrical lament on the rivalling emotions of a man who discovers that he didn't get a girl pregnant (
don't it make you feel glad / the girl ain't preggers
and
don't it make you feel sad
crop up at different refrains) is presented in a way that somewhat downplays the depth of what's actually being said. Nevertheless, it's got a barefoot catchiness that'll plant the words with a one-two in your brain no matter how you want to psychologically approach them. I love the baby face. Nnf-nnf-nnf. Enough said.
My personal favourite on the album comes at the very end, just like crack-laced spumoni after a spaghetti dinner that'd been braided into a python by Max Ernst. "I'm Absolutely Freaked Out" is a fitting title for it, if only because it's six solid minutes' worth of a passionate, slightly creepy spaz-fest that would be a perfect soundtrack for ghostbusting with magical rubber mallets. Or kickboxing. I don't know. I've never kickboxed.
Even after the daunting number of times I've listened to this album, I'm still not sure how to classify it. I have it narrowed down to two stacks: "Danceable" and "Demands Whiskey." Until I decide for sure, though, I'll just set it next to Baloo and King Louie and proceed to have the weirdest cartoon dreams known to humanity.
2
Ropechain
by Grampall Jookabox will be released by Asthmatic Kitty Records on November 4th, 2008.
1
Drum machine + me = OTP.
2
Although it'll be hard to top the one I had when I was six, right after I watched the Looney Tunes episode where Elmer Fudd serenaded a cross-dressing Bugs Bunny sitting atop a comically obese white horse. I blame that, and not my lack of cultural refinement, for my mild and admittedly nonsensical fear of the opera.
mp3: "
The Girl Ain't Preggers
" by Grampall Jookabox
mp3: "
That Steamboat Gothic Stomp
" by Grampall Jookabox (from the
Rill Bruh EP
)