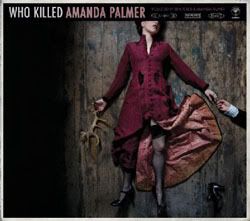 For a twenty-three year old girl who subsists on microwavable cuisine and still has no idea what she wants to be when she grows up, listening to
Amanda Palmer
's (of the famed
Dresden Dolls
) solo album
Who Killed Amanda Palmer
on an overcast day after drinking the very last Twinings single in the cabinet was, in retrospect, not the healthiest thing I could have done for my own - at times dubious - state of mental health.
Then again, someone who subsists on microwavable cuisine obviously thinks other things are far more important. And
so.
This write-up should have been posted weeks ago, honestly. Unfortunately, when I'm called to write about something that basically wrenched my throat out with candid feelings and the stabbing recognition of self-deprecation in a world that really needs no encouragement, I get a little pressed for words. Even now, I don't think I can do it justice. It's been a while since an album has hit me this hard.
Who Killed Amanda Palmer
is so many emotions, so many genres, and so many faces of humanity huddled beneath a single umbrella made of ivory. Madness and innocence link arms within the raw frankness of each phrase; her lyrics are desperate confessions and wry, cynical observations, each one of them delivered as if they're the last words she'll ever say.
The opening track, "Astronaut," is a perfect gateway from everything I love about the Dresden Dolls to a more intimate exploration of the woman behind the lyrics. Precise, pounding piano and crashing drums take reeling pauses to allow Amanda a step forward - a chance to finally tell
her
side of the story. From there, it segues startlingly into "Runs in the Family," which is a furious, rhapsodic rejection of responsibility.
All day I've been wondering what is inside of me / who can I blame for it?
It's Amanda at her most insane - and for me, it's one of
WKAP
's many highlights.
One of the reasons I think that this album has taken such a strong hold on my aural receptors is that I've always had a fondness/weakness for musical theatre. With Amanda's background, it's no surprise that the ensuing piano-rich ballads comprising the majority of the album's content sound like they belong beneath a single spotlight on a blacked-out stage, existing as solos for the different personas portrayed by a single woman caught out at stage front before her cues.
"Ampersand" is glorious in its subtle complexity, an abdication that borders on bitterness but never quite crosses the line. "Leeds United" paints a confusingly ironic landscape of priority (including what I consider to be the most ridiculous yet simultaneously wonderful and hard-hitting lyrics of 2008:
But who needs love when there's Law & Order / And who needs love when there's Southern Comfort / And who needs love / When the sandwiches are wicked and they know you at the Mac store?
).
Later, she breaks out "Have to Drive" - my favourite track of all. Who knew that refrains about the misfortune of roadkill could be so heart-wrenching? The choral verses at about 3:52 almost did me in. (And no, that wasn't a sick pun. I'm not nearly that clever.) "What's the Use of Wond'rin'," a track borrowed from Rodgers and Hammerstein's
Carousel
, conveys - through soft vocals and an equally innocent, twinkling accompaniment - the lamentable acceptance of domestic abuse.
The only song that stood out to me as being a little oddly placed was "Oasis"; while being one of the jauntiest and catchiest songs about rape, abortion, and teenage flightiness (is that even a word?) that I've ever heard in my life, it felt a little awkward in between the R&H track and the proceeding "The Point of it All," another lovely biographical ballad rife with biting metaphors and sorrow. Not that I don't love a tongue-in-cheek pop song, but the placement was a bit jarring.
Minor whiplash aside,
Who Killed Amanda Palmer
finishes beautifully with "Another Year." I couldn't imagine a better closer; her voice cracks, and her words reveal a woman at her barest, procrastinating on what? life? love? Whatever it is, it can wait.
I'm sitting in my office after hours, and I'm still out of tea. I've finished editing this for the last time, and for once I'm actually somewhat pleased with the wording. I guess it fits, in a way. Because when I finally closed iTunes after the last track, it started to rain.
And now I can go home.
mp3: "
Ampersand (live)
" by Amanda Palmer