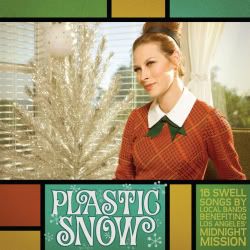 Confessions of a Would-Be Hipster is proud to present
Plastic Snow
, a Los Angeles-based holiday and winter compilation. Featuring sixteen of our favorite local artists, it's an eclectic mix (much like us) of the best the local LA scene has to offer...at least we think so.
What's better than home-grown music? Using what we love to make the world a better place.
100% of the profits from
Plastic Snow
go to benefit Los Angeles' longest running homeless shelter,
Midnight Mission
. Their stats for what they've accomplished in the last year (available on their website) are simply staggering, and we are honored to assist in fundraising for 2009. If you're LA-based, consider taking a tour - it's an incredibly humbling experience.
It goes without saying that none of these artists received any compensation for their work on this album. So for heaven's sake, if any of these songs catch your fancy, be sure to show the musicians some love. Buy albums, buy concert tickets, buy 'em pie...
Shopping Cart by E-Junkie

Price:
$10.00
$9.00
(16 high-quality DMR-free Mp3s)
Tracklisting:
1. breaking up for christmas -
the breakups
2. Holiday –
I Make This Sound
3. Icicles (Plastic Snow Session) –
Let's Go Sailing
4. Christmas Drill –
Dreaming Ferns
5. I'll Be Home For Christmas –
Earlimart
6. Shortest Day of the Year –
Letting Up Despite Great Faults
7. The Last December –
The Hectors
8. This King –
Great Northern
9. As The Day Breaks –
Carmen Rizzo
10. Christmas, California –
The Sweet Hurt
11. Winter, That's All –
Fol Chen
12. Hot Sleigh –
The Monolators
13. Christmas Break –
The Dandelion Council
14. Where's My Christmas Morning –
Princeton
15. What Brings You Back (Plastic Snow Session) –
Pierre de Reeder
16. Silent Night –
Sara Lov
&
Dustin O'Halloran
Great Northern appears courtesy of
Eenie Meenie Records
. Carmen Rizzo appears courtesy of Electrofone Music. Fol Chen appears courtesy of
Asthmatic Kitty Records
. Guest vocalist on track 1: Wendy Wang. Choir on 1: Lindsay Barnett, Corinne Dinner, Lexy Feuerborn, Jonathan Price, Jim Saunders, Greg Weigel. Guitar on track 15: Jeff Litz

Special Thank You to:
Greg McKinney
Sue DeSimone