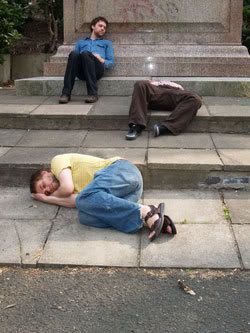 I went into Monday's show at the Echoplex knowing that the
Spinto Band
was a cute band that played kazoo on "Brown Boxes" which came out a few years ago, and that
Frightened Rabbit
has owned the last several months of my life, and
Midnight Organ Fight
left my car's CD player only because the stereo began to overheat in the Santa Ana Winds of Death that plague Los Angeles every autumn. I left Monday's show very much blown away.
Delaware's Spinto Band was billed as the headliner, but it was fairly obvious that the six very young-looking, slightly shaggy boys that piled onstage after the evening's opening band
1
were not the slightly tortured and slightly brash Scots we were expecting to fill the second slot. Not that we were complaining. I haven't seen so many smiling, head-bobbing "oooh" backing vocals since the Beatles, and their bouncing instruments and quirky melodies won me over pretty quickly. I even want to say that their vocals were more on-pitch live than on their slightly off-key records, but the bass was vibrating most of the atoms in my body, and in such situations I tend to view the world through very rose-colored glasses, so that may be an exaggeration. Regardless, they were a pleasant surprise, as was the kazoo holder
2
.
The Would-be Hipsters, however, were there for Frightened Rabbit and their self-deprecation and their awesome drumming and, yeah I'll admit it, their accents. Lead singer/guitarist Scott Hutchinson's playful stories about marrying keyboardist/guitarist Andy – a response to California's Prop 8
3
– and jokingly berating a girl in the crowd who called out "let's pretend you're attractive!" (a reference to a line from "The Twist") probably made most of the girls in the room swoon because it was all delivered in a Scottish accent and yes, American girls are that predictable and shallow. Sorry.
The music was flawless, the performance impeccable, and the vocals heartrending. There are few men in the world who can sing about how stupid he is and how stupid the girl is and how terrible their relationship was and still send shivers up your spine. There are also few men in the world who can sing
you're the shit and I'm knee deep in it
and not sound silly. And are very few men in the world who could have stood at the edge of the stage plucking a simple tune on his guitar and sing into the crowd without a microphone and have everyone in the room hold their breath the way Hutchinson did during
"Poke"
. And while the entire show was just about that emotive, much of it was more of the rabble-rousing sort:
I should probably have some witty, concise way to sum up the evening, but there's no way to do that. In fact, I wanted to do a single-word review, but L.M.S. wouldn't let me. So I'll leave you with the only word I can use to truly describe the show: Duuude.
1. Miniature Tigers – not bad as far as openers go; they were overshadowed by the psychedelic light show, until they started singing about cannibals and Hare Krishnas.
2. Y'know those things folk singers have that hold their harmonicas so that they can play guitar and harmonica at the same time? Yeah. Spinto Band's bassist has one of those. For his kazoo. Made out of what appears to be a wire hanger. Awesome.
3. Editorial from m.a.b. whose opinions do not necessarily reflect those of the other Would-be Hipsters: Dude, really California? You passed Prop 8? You fail. I'm done now.
(photo Frightened Rabbit: Christopher Heaney)
mp3: "
Don't
" by Frightened Rabbit