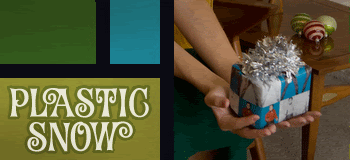 Remember the
Lusitania
, er...
Plastic Snow
! We're getting closer to the season when listening to Christmas music is social acceptable. It's Friday, pay day. Why not start the party a bit early?
You've heard our
hype
. You've seen the
photos
. Maybe you're waiting for the reviews. After all, you're a hard worker, and ten dollars
is
ten dollars, even if it is going to a
great cause
. Maybe you're asking yourself, "What are the critics saying?"
Well...
Speaking of bad ass...
--
La-Underground
So why not start the holidays a little early and help out a really good cause at the same time?
--
The Scenestar
Just look at the lineup on the album! It reads like a "Best of Los Angeles" comp.
--
Classical Geek Theater
Dropping a measly ten dollars has never felt so good!
--
LAist
Shopping Cart by E-Junkie

Price: $10.00 (16 high-quality DMR-free Mp3s)
Tracklisting:
1. breaking up for christmas -
the breakups
2. Holiday –
I Make This Sound
3. Icicles (Plastic Snow Session) –
Let's Go Sailing
4. Christmas Drill –
Dreaming Ferns
5. I'll Be Home For Christmas –
Earlimart
6. Shortest Day of the Year –
Letting Up Despite Great Faults
7. The Last December –
The Hectors
8. This King –
Great Northern
9. As The Day Breaks –
Carmen Rizzo
10. Christmas, California –
The Sweet Hurt
11. Winter, That's All –
Fol Chen
12. Hot Sleigh –
The Monolators
13. Christmas Break –
The Dandelion Council
14. Where's My Christmas Morning –
Princeton
15. What Brings You Back (Plastic Snow Session) –
Pierre de Reeder
16. Silent Night –
Sara Lov
&
Dustin O'Halloran
Great Northern appears courtesy of
Eenie Meenie Records
. Carmen Rizzo appears courtesy of Electrofone Music. Fol Chen appears courtesy of
Asthmatic Kitty Records
. Guest vocalist on track 1: Wendy Wang. Choir on 1: Lindsay Barnett, Corinne Dinner, Lexy Feuerborn, Jonathan Price, Jim Saunders, Greg Weigel. Guitar on track 15: Jeff Litz