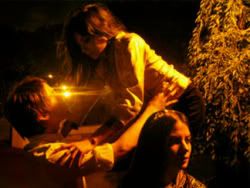 This past Saturday night the Henry Fonda was the place to be. If you drove by, you would have seen hundreds of shivering hipsters – your brave author included – braving both an epic, round-the block line and the freezing California winter to be witness to a unique and extraordinary event. "What?" you ask. What was so terribly awesome that it would draw hipsters far from their abyssal, watery dwelling deep at the bottom of Silver Lake reservoir? A painted-on-tight jean fire-sale? Free cigarettes? The annual Pabst Blue Ribbon vegan BBQ and beer-bread cook-off? Don't be silly – that's in June. We were all waiting for something much better than all those things combined: namely,
M83
on their Saturdays = Youth tour. Awesome enough, right? Nope.
School of Seven Bells
was opening for them!
That's right. School of Seven Bells...with M83...together. Two bands. Two sounds. One epic night of awesome. What's that? You've never heard of
School of Seven Bells
? Well then get thee to their
Myspace
, toad! Their debut album,
Alpinisms
, was just released at the end of October. Expect gently building synths married to subtle dance beats, kissed by what sounds like afro, dare-I-say-tribal and middle-eastern influences – all topped by the beautiful, soaring voice of lead singer Alejandra Deheza. Their tracks melt together to create some of the most enjoyable electro dream-pop sounds out there. Check them out. It's so sweet, you'll need a glass of milk to wash it down. Kind of like when I eat carrot cake...mmm...carrot cake....
Of course, let us not forget
M83
. Riding high on their so-awesomely named Saturdays = Youth tour, they were in full force. Weaving their electro-pop, shoe-gazey-awesome, they put on a great show. They even had these neat-o poles covered in color-changing LED's that were synced to the music – obviously of alien origin. Ooh! I know what I want for Christmas this year! What's that? Christmas? Give us music, you say? Bah! Humbug!
mp3: "
Connjur
" by School of Seven Bells
mp3: "
A Guitar and a Heart
" by M83