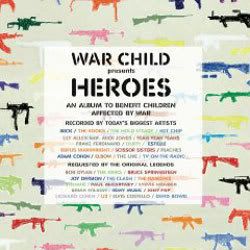 If there's one thing I like, it's covers. If there's one thing the Would-be Hipsters as a whole like, it's benefit albums. (See: Plastic Snow) So when
Heroes: an album to benefit children affected by war
appeared in our mailbox, we were all happy as proverbial clams.
War Child
is an organization that helps children affected by wars all over the world. They've got a lot of celebrity support, as evidenced by the lineup of
Heroes
: they had some of the most important names in rock 'n' roll (Dylan, the Kinks, the Ramones, Iggy Pop, U2, Bowie, etc.) personally pick a track from their catalogue and a modern artist to cover it. The result is predictably awesome. Beck covers Dylan's "Leopard-skin Pill-box Hat". The Yeah Yeah Yeahs do "Sheena is a Punk Rocker". TV on the Radio do a great David Bowie. It all makes perfect sense. (Click
here
to see the full tracklist.)
The only flaw that I see in this album – and it's a minor one – is that some of the covers are just a little bit too good. The Hold Steady sounds
exactly
like Springsteen. It's uncanny. Elbow is essentially U2 on downers any day of the week, so their rendition of "Running to Stand Still" isn't too far from the beloved Bono & co. track. There's a few moments of shake up: Rufus Wainwright does strip down Brian Wilson's "Smile" medley, and Adam Cohen's cover of his father's "Take This Waltz" is sung in Spanish. Regardless, the tracks are great, there's something on it for everybody, and it's for an amazing cause. Pick up a copy today and feel good about helping out War Child while rockin' out to some stellar covers.