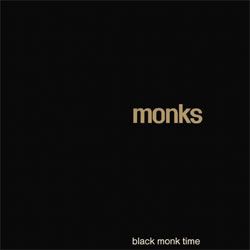 In their only full-length LP,
Black Monk Time
,
the Monks
proved to be amazingly ahead of their time. Recorded in 1965 by a group of American G.I.s living in Germany, the album was more abrasive than the Stones dreamed of being, its humor darker than the Who were managing; the only element of the Monks' music keeping the sound firmly tethered to the mid-sixties is the organ. The drums are pure beat with few fills and fewer cymbals. The guitars occasionally stumble on a melody, but they're mostly there to sustain the rhythm of the vocals and to freak out on feedback. There's also the occasional brilliant lead-bass line, and did I mention the six-stringed banjo? I don't know what they sound like, but it's not a mid-sixties skiffle group. It's shaved-head, cassock-wearing, 1960s punk rock.
With a banjo.
The vocals are often screaming, angry rants and strange non sequiturs. This was before folk-rock protest songs like Buffalo Springfield's "For What It's Worth" were beginning to enter the mainstream. But the Monks were war vets, and they had a lot of protesting to do. A lot of angry protesting – none of that "everybody look what's going down" stuff. "I Hate You" is a three-and-a-half minute rant about hating commies "with a passion, baby!" with a minute of feedback-frenzied guitar wailing in the middle - just for good measure. Album opener "Monk Time" begins with lead singer Gary Burger enthusiastically bashing the army, the Vietcong, the atomic bomb, killing children…and something about James Bond? All to a totally danceable beat. "Shut Up" laments how
the world is so worried / Shut up! Don't cry!
There's also a healthy smattering of love songs (with varying sauciness-to-pop ratios), a song about a cuckoo, and of course, what album recorded by rockers with tonsures would be complete without the world's heaviest monk chant?
The point is,
Black Monk Time
has been around for awhile in CD and digital form, but it's coming out on vinyl today. If you like rock 'n' roll, punk rock, garage rock, or any kind of loud, good music, I suggest you buy yourself a copy and blow your mind. A DVD is apparently coming in May as well which, if this is anything to go by, should be just as awesome:
mp3: "
I Hate You
" by the Monks