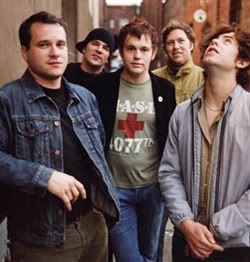 Y'know what's really awesome? When your favorite band does a gig at your favorite venue on a Friday night, and you're crammed up against the stage and the bassists' arsenal of effect pedals, and the music is brilliant and the crowd is amazing. This basically sums up the Get Up Kids' show last night at the Troubadour, and I could probably stop this review here by just saying, "Dude." But I think that might be a disservice to the band, so forgive me as I babble on.
The Get Up Kids
broke up in 2005, but you'd never know it from the show. They're incredibly tight musically: even though lead singer Matt Pryor insisted we "listen for the fuckups," they were few, far between, and hardly noticeable. Apparently Ryan Pope was forgetting drum fills, but no one would've noticed if he hadn't announced the fact to his bassist brother, Rob. I tend to judge bands and concerts on the rhythm section, and the Get Up Kids won my heart long ago because of the Popes – no other band that I've ever heard has not only lead bass, but lead drums as well. Halfway through the show, Rob's bass was turned up, just to make sure everyone knew how brilliant his playing was. (More
astute readers
will know that I was okay with this.) The only moment of musical fail was when the crowd insisted on hearing "Off the Wagon," and neither guitar player could remember how to play it. Although admittedly, it was on their first EP released in '96, and they had a hard time remembering how to play it in '05 too.
The onstage banter between the band was sparse but hilarious. Apparently there was a $500 bet to get Rob to play the show shirtless, and he was teased appropriately. Guitarist Jim can always be counted on to say something slightly foolish that Matt can mock him for. The band also wasted no time teasing the crowd, too: when asked to clap along, the song had to be stopped, because we were "a really white show," and we couldn't keep the tempo.
It has to be said that a big part of the awesomeness of the show was the crowd. I've never seen the Troubadour so full, or so bouncy, or so willing to scream every lyric so enthusiastically. Even the stage-diving during an inappropriate song and the bruised pelvis I sustained by being slammed into the stage were beautiful things. The highlight, however, may have been when one particularly enthusiastic fan really wanted to crowd surf, and Matt helped out by directing the crowd. "He really wants it. Pick him up. Now move him that way! Back this way. Aaaand down!" This apparently gave him a real sense of control. Although really, the band had each and every one of us in the palm of their collective hand from the very first chord. And they totally knew it.
It should also be noted that the Miniature Tigers opened
1
, and were great. L.M.S described them as "cuddly Weezer," and they do indeed make wonderful, cute power-pop-type songs. They played the shortest opening set I've ever witnessed. Both of which I thank them for.
(photo Get Up Kids:
MySpace
)
1. We'd been told that Train the Dentist – a supergroup composed of members of Coalesce, the Anniversary, and Hot Rod Circuit covering
Four Minute Mile
, TGUK's first LP - would open. I'm kinda bummed that they didn't.
mp3: "
Holiday
" by the Get Up Kids, from
Something to Write Home About
mp3: "
Martyr Me
" by the Get Up Kids, from
Guilt Show
mp3: "
No Love
" by the Get Up Kids, from their "Final Show" in '05