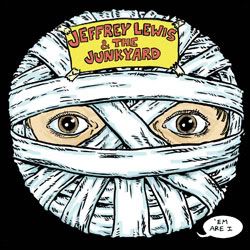 I first discovered
Jeffrey Lewis
when he opened for
the Mountain Goats
last year. At said show, Lewis – part anti-folk singer, part comic book artist, part political satirist – covered Crass songs, gave instructions on how to kill zombies, and presented an illustrated, sung
history of Communism
. Needless to say, I was instantly smitten. Simple guitar chords, nearly monotone vocal melodies that aren't quite sing-talking, but close: every song tells a story, sometimes rambling, sometimes tragic, mostly funny, but almost always engaging and conversational. I think the sing-talking helps.
Lewis's newest release,
'Em Are I
, out May 19, follows the previous formula fairly closely, but with cleaner production, added instruments, more experimentation and, in "Broken Broken Broken Heart," more poppy handclaps. It's still got strange plotlines (like avoiding corpses, pigs who think they're jeeps, women who travel in space and time…), philosophy (like the reasons to be happy if you end up in Hell), deftly plucked guitars, references to New York City, and totally awesome bassist/brother Jack.
The best way to sum up
'Em Are I
, and the bulk of Jeffrey Lewis's catalogue, is a line from my personal favorite off the album, "If Life Exists (?)":
…it's hard to get too bored when you pick the right two chords / and you keep on strumming as if you don't know what's coming.
mp3: "
Whistle Past
" by Jeffrey Lewis