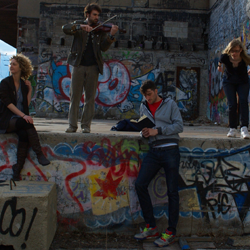 There's something curiously appealing about a band that embraces the musical freedom of art-rock, where impressionistic chaos boils beneath the temper of a single idea, feeling, or scene. What's even more appealing is the result of that intimate intensity when it mingles with a brocade of tight harmonies and inimitable mastery of syncopation, creating a solid brace between emotion and logic as they battle for dominance.
Archivist
, a band whose proclivity for assembling a Trail Mix of musical inspiration has caused them to elude actual classification (though the merit of classification at all these days eludes
me
- at my most eloquent, I'll pretty much go with "this sounds real good"), is a fantastic example of the aforementioned concept. I've never been a huge believer in the prospect that something could be "so complicated that it's simple"; even knowing that Schnabel described the sonatas of Mozart as existing in this phenomenon, it still seems like a farfetched and pretentious notion. Still, I can't help but acknowledge how
much
each song on this album is packed with the frequencies of the subtlest tics of human consciousness, and all of the implications that lie within a central theme of, as expected, living on poison.
The best part about all of this is that the music
is
simple. Each beat is expertly arranged; from the dissonance and pulsating grid-locked rhythm of "Pop Litany" to "Closing," an electronic sea shanty with a delicate face and a powerful body, I could wager on each track being completely danceable in some form or another. (This with the exception of "Flowers," which pretty much stands on its own for containing the epitome of existential rants and a general feeling of doom. Which isn't necessarily a bad thing.)
"If that isn't a bad thing," you ask, "then what is?" An example of a Bad Thing would be the sudden realisation that one of the main preservatives in foods (propylene glycol) is nothing more or less than embalming fluid. The more you know!
Learning to Live on Poison
is set to release on June 2nd, 2009.
mp3: "
Pop Litany
" by Archivist