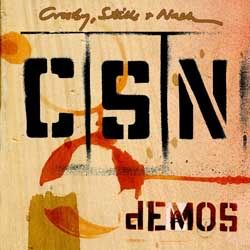 Here's the thing. 60s folk rock isn't hip. I know this. I don't even think it's would-be hip. I mean yeah, it's hip to like the Beatles, 'cause they're, y'know, the Beatles. And the Stones are awesome, and Zeppelin is cool in a nerdy,
Lord of the Rings
sort of way. You might even get some ironic hip points for liking the Monkees
1
. But
Crosby, Stills & Nash
? Didn't my parents listen to them
2
? Blech.
CSN's new album of old demos from the late 60s and early 70s – released earlier this month and titled, surprisingly enough,
CSN Demos
– may not be the greatest starter album, as part of its appeal is the fact that it's demos of well-loved songs, and so you're able to see how the song changed through its lifespan, with different lyrics, different moods, different styles of each of the musicians before producers' and collaborators' influences could affect things. The classic Stills song "Love the One You're With" (don't try to tell me you haven't sung along with the classic rock station) is represented here on an acoustic guitar, significantly rawer and sung in a more call-and-response style. Crosby's "Almost Cut My Hair" is less defiant and more somber, giving the line "I'm going to let my freak flag fly" a slightly different meaning.
That being said, you don't have to be a life-long fan like myself3 to enjoy this album. This is genuinely good music. There's great songwriting, political dissent, beautiful harmonies, and amazing guitar playing. If you're into stuff like Iron & Wine, Jose Gonzalez, M. Ward or the New Amsterdams, Crosby Stills & Nash are worth looking into. Because sometimes you parents aren't wrong.
1. One of my favorite modern, very hip musicians once confided that the Monkees' album Head
2. It occurs to me that, at 26, I'm an old woman, and the majority of readers probably have parents who actually listened to Fleetwood Mac or Prince or Twisted Sister or something. Sorry.
3. The first concert I ever went to was a CSN show in Thousand Oaks in 1999 when I was sixteen years old. I had to lie to my parents to be able to go. That's how totally hardcore I was as a teen.
is one of his favorites.
mp3: "
You Don't Have to Cry
" by Stephen Stills