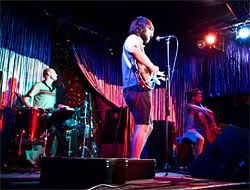 I knew it was going to be an amazing show when one of my friends gestured to Spaceland's small stage and said, "Wait. Is he sitting on the bass drum?" The 'he' in question was So Many Dynamos' drummer Norm, and yes he was. After a short set from Kinch
1
,
Cast Spells
did a brilliant set. Not only did the drummer play the bass drum while sitting on it, there was a cello, and some
lovely folky indie noise
played on a semi-hollow bodied guitar by a lovely man with a beard who happens to belong to Maps & Atlases
2
. They have an EP coming out in August, or July, depending on who you listen to. And you should buy it.
But really, we were there to see
So Many Dynamos
. They're big favorites around the WBH headquarters, what with the loudness and the clever lyrics and the disregard for rational time signatures and the screaming about all the fun ways to die in the apocalypse and the flailing and the loudness. Theyre really loud, in a 'vibrate every atom of your body because you're standing too close to the synths' sort of way. Four otherwise unassuming,
geeky young men
3
should not be able to make that much noise, especially not in such a controlled way. "Sorry about all the science projects," guitarist Ryan kept apologizing, as effects pedals were swapped and dials were twirled and synthesizers were battled and a number of percussive things were hit rather hard – for a few moments, the other guitarist, Griffin, was actually playing the cable he'd unplugged from his guitar. Just the cable. Seriously.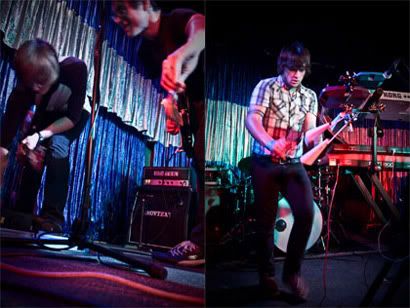 The set was largely songs from their recently released album,
The Loud Wars
, with a healthy smattering from
Flashlights
, which ako and I agree is one of the greatest albums ever recorded. The set was decidedly too short and they actually denied us an encore, but there was enough energy and thrashing and awesome to make up for the shortness of the show. Besides, we got to buy glow-in-the-dark octopus shirts from Ryan in the end, and if anyone can come up with a better way to end a show that doesn't involve pie, please let us know.
1. Not bad, but nothing to write home about. The bassist plays like a 1967 session guy, and the singer messed himself up in a pretty cute way, and sounds like the guy from the Walkmen.
2. The man belongs to Maps & Atlases. Not the beard. His name is David Davison. I don't know what his beard is named.
3. Geeky young men are the best, and always seem to rock the hardest. So hard was their geek rocking that synth-bassist/vocalist Aaron rocked off his dark-rimmed spectacles, even though they had a strap on them. That's rock 'n' roll, man!

(photo Cast Spells & So Many Dynamos: Aude Prachandsitthi)
mp3: "
Glamorous Glowing
" by Cast Spells
mp3: "
We Vibrate, We Do
" by So Many Dynamos