author's note: This post is stupidly late. Like a month late. We were waiting for the drawings. I'm sure you'll agree that they're totally worth it.
The Get Up Kids are touring again, and, if their
Twitter
is to be believed, they'll continue touring for awhile. This is very good news. If you haven't seen them, and you're not afraid of getting kicked in the face
1
, you should catch a show. Three Would-be Hipsters sneaked out of work to get to the ridiculously early show at the Avalon, where I ran into two fellow fans I'd met at previous shows, because Get Up Kids fans are kind of awesome. Here's a bulleted list of things you should know about the show:
• First opener Pretty & Nice were, in fact, pretty nice. Motion City Soundtrack-esque punky pop played by boys in pants that are too tight.
• Second opener Youth Group disappointed us greatly, and we spent most of their set wondering how many porn flicks the lead singer had made, and hoping he didn't fall off the stage and bleed on us.
• The Get Up Kids sound just as tight and loud and wonderful as always, and they've even remembered how to play a lot of their old songs. ("Woodson" and "Off the Wagon"? Awesome.) They still seem unwilling to play "Shorty" for me, though.
• Most importantly, it seems the boys are writing again. With no fanfare other than frontman Matt Pryor's, "And then there was this," they launched into a new song. It doesn't sound very Get Up Kids-ish, but neither did 2004's
Guilt Show
, and that turned out pretty awesome. It does sound very bassy and very epic, and we at WBH headquarters are officially thrilled by it. According to their recent
Daytrotter session
2
, they've recorded nine new songs. And while I'm a bit torn about the idea of a new album, if there is one I promise to buy it, and I'll go to every show, and I'll get kicked in the glasses by a teenaged boy, and I'll like it, dammit.
Super Added Bonus Section!
the Would-be Hipsters proudly present
"GUK Salad...and an Angel?"
an art piece by Aude Lising Prachandsitthi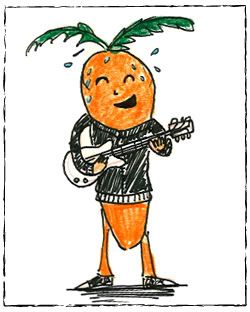 There was a sweaty sweater-clad carrot...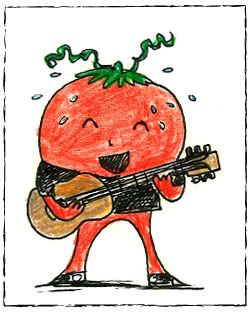 ...and there was a sweaty tattooed tomato, too.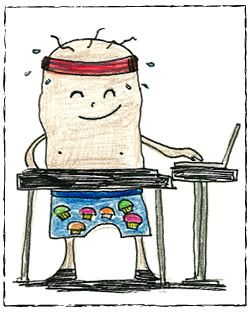 There was a cupcake underpants wearing sweaty potato, of course...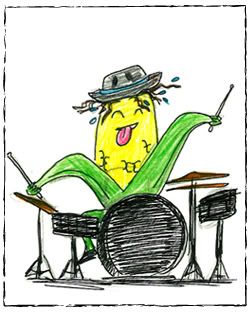 ...and let's not forget the wild hair, hat-clad, tongue-pulling ear of corn (uncooked).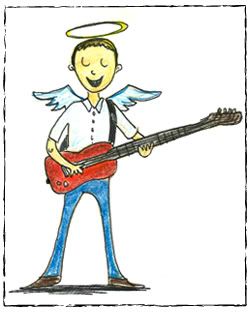 And then there was Rob "I don't sweat because sweating is for mortals" Pope.
1. If you are afraid of getting kicked in the head, front-row-center is probably not for you – although not every show involves crowd-surfing, so you might wanna risk it anyway 'cause front-row is kinda awesome.
2. Download it. Now.